2003.10.05 Multan, Pakistan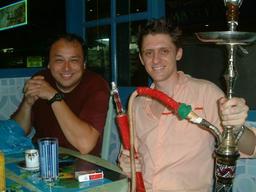 Wow. I can't believe I'm back here. I haven't been to Pakistan for over ten years. I'd forgotten how friendly everybody is. Travelling with Mike Truog right now, and we've received nothing but hospitality all the way up from Karachi. People have been paying for our bus fares, taking us into their houses and preparing lunch, not to mention showing us around and offering us endless cups of tea.
We spent a couple days around Moenjo Daro, which was amazing. The city is well preserved... it's hard to believe that it's really 4,500 years old. It doesn't look that different from a few places we've breezed past on the way up here.
We were the only tourists there the days we stayed. I think that visiting Pakistan is not in most Americans' mind-set anyway, but probably much less so after September 11. Added to that, guide books give horrifying warnings about all sorts of bandits and kidnapping, especially in the province of Sindh, where Moenjo Daro is located.
The Archaeological Guest House register showed the last American to stay there overnight was in October of 2002, a year ago. Who knows? I put all sorts of crap in those registers.... dont usually lie about my nationality, but sometimes I'll take on another name. That register asked for religion, to which I filled in "Zoroastrian". I suppose that's not so far-fetched in Pakistan.
I'm surprised how much Urdu is coming back. When I lived in Lahore in 1993 I took a bit too much of a bookish approach to it, I think. Now it's purely a street thing... getting around, meeting people. I'm far from fluent, but definitely conversant.
The only photo I have from the trip yet far was taken by Aussie mate Lachlan Laycock with whom I met up in Bangkok. Mike has taken some snaps with a digital camera which I think will turn out wonderfully, but we'll have to work on uploading those.