2003.10.06 Multan, Pakistan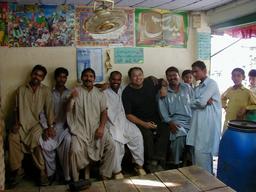 So Mike has gotten his digital photos to work. It's a bit of a shame that we'll be parting ways in Kashgar. Updates thereafter probably won't be as interesting.
We explored Multan today. The city is great. A lot of my good mood comes from staying at a really clean, friendly hotel. It's only two months' old so everything is new. The hotel itself is not on a main road, but with our room being towards the back it's especially quiet.
Perhaps most surprising to me is that it's run by an extremely friendly, funny woman. Everywhere in Pakistan is so male-dominated. I've gathered that the country has loosened a bit since my year in Lahore. I was surprised to see cable TV in Karachi. While I was living here cable was extremely rare, though CNN was re-transmitted. (Even that was censored.)
The room rate is 350 rupees for the both of us, which my calculator says equals $6.14. So, if you're in Multan soon, I recommend:
Al-Khair Guest House
Azmat Wasti Road
Jalilabad Colony
Near Park Hotel Chowk
Dera Adda
Multan
Perhaps the highlight of the day was visiting the tomb of Shah-Rukn-i-Alam. It's truly one of the most magnificent pieces of Islamic architecture I've visited. Pilgrims and worshippers mill about inside; incense is in the air. The atmosphere is serene; we hung about for quite a while, quietly talking with people who were interested in where we had come from or wanting to share some of the tomb's history with us.
While at another tomb up the road we attracted quite a lot of attention. Actually, just getting from one to the other was done sitting on the racks of two bicycles pedalled by a couple guys who offered us a lift. While viewing the exterior, a journalist and photographer found us a potential story item and asked us quite a lot about our impressions of Pakistan, Multan, and Islam. I think the novelty is that my Urdu is passable. Everybody we ask says that there are lots of international visitors, though we have yet to meet one. (In Uch Sharif we were quickly surrounded by about thirty men who had all sorts of questions. It was actually a lot of fun, as it was the first time I felt perfectly comfortable holding a sustained conversation with several people, everything spoken in Urdu.)