2003.10.08 Lahore, Pakistan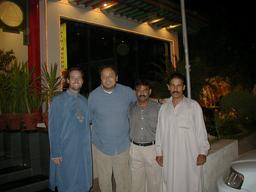 It's great to be back in Lahore. Just coming into the town from Multan along the old Canal Road brought back so many memories. That's the road I would take to get to classes at the Berkeley Program. The old "Arabian Delights" sweets and baklava place is still at one of the intersections; I'm hoping to make a return visit.
We're actually staying at the program center, which is quite the step back in time. I'm a bit disappointed, as I had expected a new session to have just begun. I figured we'd meet some students newly arrived from the U.S., perhaps sit in on a class or two.
Turns out that the program has been in limbo since September 11. The facilities are there, and Razaaq (director) and Mushtaq (cook) still show up for work every day. There just aren't any students. It's good to see those guys, though.
I've been thinking that if I can't find all I'm looking for in Kashgar, a return to Lahore would be a good back-up. The calligraphy teacher, Junaid, is evidently still around. Razaaq could surely hook me up with a family to stay with for less than a hundred dollars a month. That would allow for the main part of what I want to study: Islamic calligraphy. It wouldn't provide for the Chinese at all, in terms of spoken language or calligraphy.
Clearly I'd rather be living in Kashgar. I'm sure my Urdu is in better shape than my Uighur, but I prefer the atmosphere in Xinjiang. I'm just speculating on alternatives should there be a hitch finding teachers, a place to stay, or even a proper visa. (Right now my China visa is dual-entry, allowing stays of thirty days each. I'm hoping to spend a year.)
Mike and I explored a bit of Lahore today. We took a mini-van to Jinnah Gardens, at the east end of The Mall.It was really pleasant--especially after dusty Karachi--to sit amongst all the trees and flowers, just sipping on bottled water. We strolled down The Mall; I picked up some basic Urdu-language books and a copy of Diwan-i-Ghalib at Ferozsons Book Store. Not that I can understand all that classical poetry... but I sure hope to be able to one day.
We'll probably spend three days here, then move on to Islamabad. There were riots and deaths up there yesterday. Evidently some sort of Sunni/Shia friction. It's a bit odd. Michael and I have been arriving and leaving in between all sorts of riots or demonstrations in Karachi, and now this. What's strange is that we don't feel uncomfortable. I guess it's that the violence simply isn't directed towards the West. I'm sure it could turn very quickly, should the wrong political events occur.