2003.10.21 Peshawar, Pakistan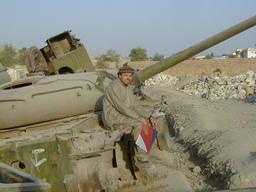 Arrived back in Pakistan today. We were in Afghanistan only a week, but it was a hell of an experience.
Everything seems so developed back here. So many less guns. An actual variety of food, beyond greasy kabobs. (Not that there aren't plenty of those here as well.) The availability of hot water to shower with--I could go on forever, but suffice it to say that if the infrastructure of Pakistan is comforting, travel in Afghanistan is pretty rough.
All that said, it was worth it. The road from the Khyber Pass to Jalalabad is well-surfaced and beautiful. I think that was the stretch where we saw the greatest number of camel caravans, most all outfitted with riding seats or supply packs. A wonderful image I hope Michael caught on camera was a flock of camels wading across the river. (Ironically, all the camels I saw were dromedaries. I believe the Bactrian camels were named after the old name for Afghanistan, Bactria. I'm sure I saw Bactrian camels when I went up the Karakorum Highway in '93, and that's practically down the road from here.)
The road from Kabul to Jalalabad is rougher and dustier than any I've travelled, even those in Africa. It's also one of the most beautiful. I describe it to some degree in my previous entry, but it's just one of those stretches you have to see for yourself. Rocky plateaux, lush valleys, winding mountain passes... I hope we can upload at least some glimpses.
There really wasn't anywhere cheap to stay in Kabul. Well, that's not totally true. We had a look at a place for 350 afghanis--maybe seven or eight bucks--but decided to pass. I won't go into details, I'll just say it was grottier than even I could bear. We did find somewhere tolerable for the first night in the capital, and went in search of better accommodation immediately.
Seems that there's a huge price jump to stay with the most minimal facilities. Anywhere with a hot shower charged at least fifty bucks for a double. We wound up at the Zar Negar with clean (enough) rooms and a large tank of cold water to wash off with for $10 a night.
Our last day in Kabul we made it out to the southwestern edge of the city to see what was left of the Kabul Museum and the grand palace across from it. We'd been led to the National Archives the previous day by a giggly journalism student we met in the library. She spoke fairly decent English and was kind enough to lead us to where she thought we wanted to go. We weren't disappointed when it turned out to be the National Archives rather than the Kabul Museum, but the collection was downright depressing.
There were some very eager employees inside, obviously not used to having any actual tourists show up. There may have been more to the collection, but they showed us the south wing. Almost all that was there were reproductions or photocopies of what I presume were looted--or destroyed--treasures from the past. There were a lot of miniatures, a la the Hamzanama. Manuscripts aplenty. Even some English text, identifying all the finer points, such as, "Calligraphic Script: A nice nastaliq". But being that it was describing a photocopy of a destroyed masterpiece made it a bit sad.
The staff were very friendly. Most all of them were speaking in Persian. I could recognize the language--took an intensive course in it eleven years ago--but have little comprehension and no speaking ability. One of the staff spoke some Urdu, which we managed in to some degree. Upon leaving, one of the staff offered us a hot meal--obviously lunch which had just been prepared for her--which we graciously declined.
So, the Kabul Museum was a bit better, as there were actual objects which had been recovered or were being pieced back together after being crushed by the Taliban. It was officially closed, not set to open for a year and a half, but a man with fair English let us poke around a bit. A crew from National Geographic was filming while we were there, so if you see a documentary or photo spread a few months down the road, know that's where we were. I noticed the issue of National Geographic with the picture of the Afghan refugee with haunting eyes on the dashboard of an SUV as we left. So many Afghanis have that same pair of eyes, with its unique coloration and gaze.
Across from the museum were the remains of what must have once been a fabulous palace. Mike and I climbed the hill on which the palace was set. We poked around the enormous building, climbing up spiral staircases, passing tons of crumbled rock and walls pocked with bullet holes on each storey. It was a bizarre contrast, ornate balconies and grand archways amidst utter destruction. I was a bit surprised that there was no trash or excrement within the palace, as it was a huge building that would surely have been squatted in most anywhere else.
The last thing we did before leaving Afghanistan this morning was to have some photographs taken. On the streets of Kabul and Jalalabad are men operating old, boxy, wooden cameras resting on tripods. These are the type with a cloth the photographer hides under to view through the lens. It only takes a few minutes from exposure to developed print; the result is a likeness that makes the subject appear to be from circa 1900. We requested six apiece; it's a shame I didn't ask for more. The cost was nothing and they would be hysterical to use for visa applications.
Well, if you've made it this far, you deserve to see some photos. I don't know how permanent this link will be, but brother Ben has set up a home for the photographs we've been uploading. The master directories of everything we've taken so far can be skimmed through at:
http://du.homeunix.org/nastaliq
If you've been reading this weblog, please do drop me a note. Even if you and I have never met, it will be interesting to me to see if anybody is actually reading these entries.