2003.11.02 Chitral, Pakistan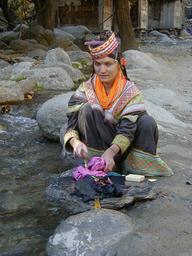 I've realized that I use a lot of superlatives in my weblog thus far. At the risk of sounding like I'm exaggerating my every experience, I know this entry will be no exception.
We've just returned to Chitral after four nights in the Kalash Valleys. The region is also known as Kafiristan, the land of the non-believers. While that's a bit of a pejorative term, it's apt. The Kalash people are the only to have retained their own religion in an area where Islam is firmly entrenched. Aside from their religion, the Kalash women wear some of the most elaborate clothes I've seen. Long black dresses are stitched with colorful embroidery around the hems. Long headdresses hang down behind their necks, with buttons and seashells sewn into neat rows.
The three valleys where the Kalash live are the type of place I thought existed in storybooks: ringed by mountains, abundant wildflowers along the riverside, boys climbing trees, flute music in the air. People have been welcoming and friendly this entire trip, but especially so in these valleys. It's especially different as many of the restrictions of Islam are non-existent. Women are not so separated or covered, and will greet you along the footpath with a hearty, "Ishpata baya!" Wine is available, the first drink I've had in over a month.
We're hoping to cross the Shandur Pass to Gilgit tomorrow. Seems like a pretty rough ride, about twenty-two hours by jeep. Since Michael and I met in Karachi at the end of September we've been expecting to reach Kashgar (my destination) in about ten days' time. That has remained constant as we keep adding side trips, such as to the Kalash Valleys, or Afghanistan. I've been enjoying the trip immensely, but am about ready to reach Kashgar and get settled.
Most of the food has been wonderful, but some of what's served is bringing me back to my days in the Punjab. I lost about fifty pounds the year I lived there. Some of that was probably on account of contracting malaria, but the bulk of it came off because the food tasted the same every meal. I'm not sure exactly what the particular spice is, but there's something used in every dish that will make you gag if you eat it every day for a month. I'm particulary craving pork and chive dumplings I know will be available in China.