2003.11.11 Kashgar, China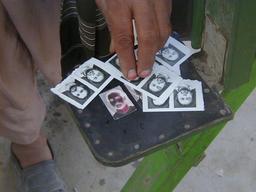 I've finally arrived in Kashgar.
It was quite a trip crossing the Khunjerab Pass. That section of the Karakorum Highway is supposed to be the highest surfaced road in the world. I believe it: even in the frontier town of Sost, before the pass, I could feel the effects of the altitude.
The most horrifying moment of the trip was when the jeep in which we were riding spun out 360 degrees. The driver was going too fast for conditions and lost control over a patch of ice. It would have been a frightening enough experience on any road, but given that the Karakorum Highway threads its way through some of the world's highest peaks, it was the worst place to happen. To one side of the narrow road is a great, stony mountain. The other side is perched above a cliff with a river running far below. We spun, then skidded into the mountain.
Ironically, I didn't even notice what was happening until we were already turned sideways and skidding forward. I'd been engaged in conversation with the traveller seated next to me, a Chinese woman who had been travelling independently around Pakistan, Afghanistan, and other Central Asian countries. I only looked up when Michael, to my left, screamed out, "You fucker!". I then looked up to find the mountain ahead of the windshield, the vehicle moving and rotating further along the road. We probably weren't going all that fast, but every moment was vividly clear until we bumped comfortably into the mountainside.
The rest of the journey was relatively uneventful. It's no longer necessary to spend the night in Tashkurgan, which I remember as a depressingly remote Tajik town when I did the journey ten years ago. It might have been interesting to have compared how it's changed (I'm always amazed how much this country has developed when I keep returning every couple years) but as it's possible to go by taxi to Kashgar for 100 RMB we decided to do the whole journey in one day.
Kashgar too has changed. The main part of town now resembles just about any other Chinese city, with the neon lights and karaoke clubs. The streets have been greatly widened; donkey carts are no longer the main source of public transit. New traffic lights have been added, including "Walk/Don't Walk" signals that show an animated green pedestrian grooving along. Joyce, the Chinese backpacker, claims they're now common everywhere in China, but they were novel to me.
It's still largely Uighur here. The Han do seem to dominate the new part of the city, but the Sunday Market and lots of neighborhoods are Turkic peoples only. I've tried using my Uighur in minimal transactions (e.g. buying a bottle of pomegranate juice) but it's just not in the shape my Urdu is. For that matter, I can communicate better in Chinese right now, despite my dismal command of the tones. Hopefully that will all change with a little time here.
Michael, Joyce, and I have all been staying at the People's Hotel on West Renmin Road. Mike and I considered transferring to one of the backpacker haunts like the Seman, which would have been a third the price. One look at a room with grungy Europeans, clothes, Tarot cards, and other assorted crap strewn about convinced us otherwise.
It seems wholly possible to pursue my interests here. The Kashgar Teachers' College has about twenty foreign students enrolled. My main interests are Uighur calligraphy and language, followed by Chinese calligraphy and language. It's been wonderful having Joyce along, who has served as translator for all of my questions. We spoke with the director of foreign admissions, who took us through the process: 250 RMB application fee. Copies of diplomas and resume. A letter of intent. Evidently few applicants are refused.
There are two hitches, though:
I'd have to live on campus. There's a strong chance I'd have to share a dormitory. On top of that, while affordable by Western standards, the accommodations are extremely overpriced. Anywhere else in China foreigners can live pretty much wherever they choose. However, those attending school in Kashgar must live on campus, and those working must live in a compound out by the lake. A nice, four-room apartment elsewhere in the city rents for about half the cost of the spartan dorms.
The Kashgar Teachers' College will allow me to enroll only with the new term, which begins after Chinese New Year. That should be March 1st.
Joyce called somebody she knew at Xinjiang University (up in Urumqi) who was familiar with the procedures for foreign enrollment. Evidently I can start there any time, live off-campus, and attend a somewhat better educational institution. The three of us plan to to take the train to Urumqi tomorrow, a twenty-two hour journey. I really did not like Urumqi when I visited four years ago, and have always loved Kashgar. However, if I can start the calligraphy and language study there, I don't think it will be a problem to transfer to Kashgar for the second semester.
An additional complication has arisen in all this. The woman to whom I sublet my apartment back home has given notice and is leaving early. This means I need to have all my stuff moved out and find a new place for my cat, Mango, to live. All that is in Seattle and I'd been planning on being here in Xinjiang for a year. However, I think that I will:
Visit Xinjiang University this week.
Take a train to Beijing.
Buy a round-trip ticket to Seattle
Pay rent at my place in Seattle over the month of December, finding a home for Mango and storing my stuff.
Return to Urumqi in January, beginning my studies there
Transfer to Kashgar for spring semester; if all is well, stay on additional terms.