2003.11.17 Urumqi, China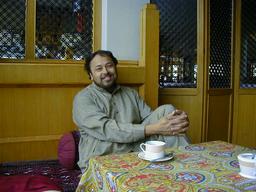 Hunza Valley 2003-11-04
Up in Urumqi now. It's not nearly as dreary here as I remembered. Kind of a happening city, even. (One aspect I find interesting is that there are many more signs in the Cyrillic script up here than in Kashgar. Of course most are in Chinese and the modified Arabic script of Uighur.) I've been quite happy to eat yummy food every meal. I suspect all of China has developed similarly, but it still strikes me just how much is available here.
It's been something of an amusing route: Coming from Afghanistan into Pakistan everything seemed so developed; so many products available. Crossing the Khunjerab Pass to China was a similar leap. The roads are all well surfaced. I couldn't believe how comfortable the twenty-two-hour rail trip from Kashgar to Urumqi was. Mike, Joyce, and I keep spoiling ourselves with wonderful, inexpensive massages. Each country we enter seems so much more luxurious than the last. I wonder if it will strike me similarly upon returning to America, or if popping back into the familiarity of my homeland will void out the culture shock.
I haven't been using Uighur as much as I'd hoped. There's been a bit here and there, but it's too damned easy to fall into Chinese the few times I do need to be understood. Having Joyce along has made everything a breeze. I've been all too happy to stop playing the central role of translator and let somebody else make the decisions and dope out what's going on.
Both Michael and I have had some health problems these days: I can't stop sniffling, and was blistered by the hot-sand pillow of one of our massages. Michael fell halfway into an open manhole in Kashgar and banged his legs up pretty badly. (These hazards are everywhere, and invisible at night. We stared down into one this evening and saw a worker at least five stories below.) It could have otherwise made for a depressing point in the trip, but we've just kicked back at the Xinjiang Hotel and let ourselves be escorted to various pharmacies and doctors.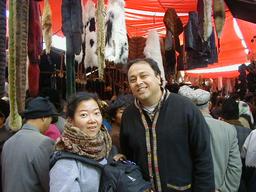 Kashgar 2003-11-09

Joyce and I visited the campus of Xinjiang University yesterday. One of her friends in Beijing used to work there and still keeps up with the former director of International Student Affairs. We met him and toured the campus. It was perfect for what I'm looking for: I can take both the Uighur and Chinese languages, as well as study Islamic and Chinese calligraphy. I can live off campus in a nice apartment for about $80 US a month. I can begin as soon as I wish. My only problem is that I have to take care of affairs back in Seattle. I sublet my apartment and entrusted my cat to a friend, but that's fallen through just two months into the trip. It would make far more sense economically not to go back, but I feel more comfortable taking care of things myself.

So, we're hoping to leave Urumqi tomorrow and take a train east. We'll probably go to Xi'an, where I'll finally say goodbye to Michael. He's off to India and will no doubt find some interesting route overland. From Xi'an Joyce and I will continue on to Beijing, where I'll pick up a flight to the US. I'll find a new home for all my things, spend the holidays with my family, then return to China and begin my studies.

I'll enroll in classes at the Kashgar Teachers' College next term. Though the facilities there aren't as good as up here in Urumqi, Kashgar just has such a cooler feel to the city. If living on campus really is that stifling I'll just finish out the year back here.