2004.01.16 Beijing, China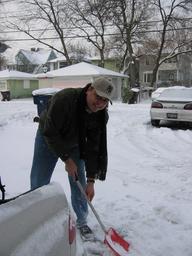 Oak Park 2004.01.05
My sole New Year's resolution was to not return to Seattle until 2005. I guess I'm 4% of the way there. I left on New Year's Day, flying to Chicago to visit my mother's side of the family. I have an aunt who lives in Oak Park; my grandfather still lives in the small northern Indiana town where my mother grew up.
I made the trip out to the midwest for a few reasons. Most important was, of course, to visit my relatives. Also, having given up my apartment at the end of December I had no place to call my own in Seattle. My ticket back to China wasn't scheduled to leave until January 8, and departed from San Francisco. With the logic of airfares the way it is, it didn't cost that much more to buy a ticket SEA -> ORD -> SFO as it would have had I gone to San Francisco only.
I spent the first week of 2004 catching up with folks and getting familiar with a couple gadgets I've brought back with me. I bought a little iBook G4 Mac before leaving Seattle and had a digital camera shipped out to Indiana. (Shipping it outside of Washington State meant being able to use the last of my Amazon employee discount and dodge the state sales tax.) I was ready to switch over from 35mm anyway, but having Michael's camera along in Pakistan and Afghanistan really convinced me that it was time to pick one up myself. (Incidentally, that camera was either lost or stolen last month in Yunnan Province. I received e-mail from Michael yesterday; he's made his way overland across Laos and Cambodia to Bangkok. He plans to fly to Calcutta within a few days.)
I spent my last day in the US visiting people around San Francisco. I was picked up at the airport in Oakland by Debbie, whom I met on the flight from Tokyo to San Francisco back in November. We actually didn't speak during the nine-hour flight until we started the descent into SFO. (She was snoozing up until then.) While making conversation it came up that she was returning from a buying trip to Vietnam, a country she visits to purchase items for export. One of her main products is gemstones, which I found enough of a coincidence that I remarked on it. When I met Joyce at the Pakistan border her rucksack was the heaviest of any backpacker's I'd ever lifted. It turned out that she too had been buying gemstones and was considering starting a business herself.
Debbie and I kept in touch via e-mail. When I returned she took me to lunch at Tadich, which I heartily recommend to anybody craving seafood with old San Francisco atmosphere. She'd been considering doing some of her buying in China and has always wanted to visit this country. It's likely that she'll come either next month or in March; perhaps finishing up by traveling the Karakorum Highway south to Pakistan, if the Khunjerab Pass is open.
That evening I had dinner with a friend of Zach and Lisa's, Nicole. We'd never met but I knew that anybody who is friends with either of them would be interesting and worth getting to know. Zach and Lisa are currently in Italy, though were kind enough to let me use their place to crash. Nicole was the key-keeper. We went shopping for charcoal for my hookah, then ate barbecue at a restaurant Zach and Lisa's place. I specifically wanted to eat a meal I wasn't likely to find again the remainder of 2004.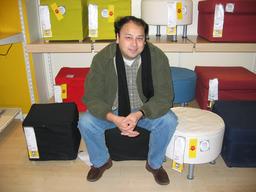 IKEA, Beijing

The next day Joyce picked me up at the airport in Beijing. Aside from taking care of me, she's been spending most of her time writing articles about her travels to sell for some quick dough. Also interesting, though I haven't yet seen an episode, CCTV is broadcasting a series she acted in. I guess she appears in almost all of the twenty-odd episodes.

I sent off my application to Kashgar Teachers' College a couple days ago. I hope they can process it before my 30-day visa expires. I'm presuming that once I'm accepted as a student I can adjust my status to get a 1-year multiple-entry visa. Buying tourist visa after tourist visa is expensive and a nuisance. Spring Festival (Chinese New Year) begins in a few days, and that's followed by a holiday in Xinjiang. I'm afraid that will further delay the already slow process, meaning I'll have to shell out for more extensions or another "L" visa which I don't really need. Oh well.

If I can adjust my status in time, I'm considering spending part of February down in Hong Kong before courses begin. I suppose even if I can't turn into an official student it wouldn't hurt to go anyway, get a brand new visa down there, and keep on waiting.

Can't believe I've been back for a week. It's interesting having the perspective of coming directly from the States. When I entered China from Pakistan in November everything felt so developed and first-world. Now the shortcomings in infrastructure and sanitation are much more evident. And after a few days in Chicago, the weather here just doesn't feel all that cold. I suppose once I make it to Kashgar it'll be equally cold there, though. Brr.

I've transferred all of the photos from the trip to Zach's machine. It has a much nicer interface--Gallery--for uploading and viewing photos than what I was previously using. A side effect of this is that the images on my travelogue are much smaller than they were before. I'll have to play around with what tools I have to see if I can bring back the size I was previously using. I feel that the new tiny thumbnails are just too small. One nice feature though, is that they are all linked to a larger image by clicking on the picture. To see all the photos, including ones taken on the new camera I bought, take a look at: http://zachfine.com/gallery/davidwong