2004.04.19 Urumqi, China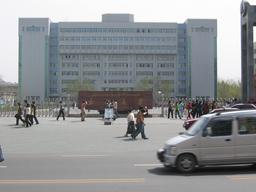 In some future entry I hope to share more snaps of the locations that define my existence on campus. Until then, I'll show the two main buildings in which I spend time on a daily basis.
I took the first photo across the street from the main gate to Xinjiang University. The sign reads Xinjiang University in Uighur, Chinese, and English. The type of articulated gates surrounding the sign seem to guard just about every property in this country. One side is kept open just wide enough to allow pedestrians to pass freely. When a vehicle approaches, a motor operated by an attendant retracts the gate to allow entry.
Coming from where I do, I can't understand this level of control. It's not only these articulated gates that restrict passage: most of the buildings have all but one entrance permanently locked. Both Building No. 1, where all my classes are held, as well as my dormitory were built with several entrances. Save one door, all other ways in are invariably locked with chains or cable-style bicycle locks. The one door which is kept open also comes with a bored attendant sitting at a nearby desk. This whole set-up is ostensibly to control theft. Not that I've yet tried, but it wouldn't be hard to boost something through one of the windows, making me question the logic.
Visible beyond the main gate is the building in which I attend all my classes. There are dozens of buildings on campus, but Building No. 1 is where the majority of foreign students have class. The classrooms are boxy and spartan. In keeping with the restricted access to its entrances, the majority of Building No. 1's restrooms are also kept locked up. Perhaps that's just as well: those that are open exude the most incredible stench.
My daily course schedule is:
Monday
Tuesday
Wednesday
Thursday
Friday
10:00 A.M.
Chinese Grammar - Rm 204
Spoken Uighur - Rm 602
12:00 P.M.
Spoken Chinese - Rm 204
Uighur Grammar - Rm 602
Chinese Grammar - Rm 204
Uighur Grammar - Rm 602
Uighur Grammar - Rm 602
2:00 P.M.
Lunch
3:30 P.M.
Spoken Uighur - Rm 602
Spoken Chinese - Rm 602
Spoken Chinese - Rm 204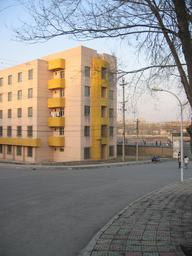 The lower photo shows the exterior of my dormitory. My place is the one with all the laundry hanging from the clothesline. It's a ten-minute walk between my dorm' and the classrooms in Building No. 1. The campus is littered with small shops, newsstands, and restaurants. I generally pop into one of the shops en route to class to pick up bottled water to help get me through the session. That may become less of a ritual as just yesterday I moved a half-sized refrigerator into my dorm.
I've all but decided to remain in the dorms through this term. It's much easier to be sociable, do a spontaneous study session, or take dinner with others here. Additionally, Paul has been good about getting me to exercise regularly. I'm planning to travel around over the summer break--haven't yet figured whether I'll return or move to one of the cheaper, nicer flats just off-campus.
I now have the dorm' address, if anybody cares to drop me a line. I can be reached at:

乌鲁木齐市
新疆大学
胜利路14号
青年公寓楼336号
830046
黄祖光
David V. Wong
Xinjiang University
Shengli Lu 14
Qingnian Gongyu Lou 336
Urumqi 830046
China
I've already managed to decorate my room a fair bit, but have for some reason decided that I need a photograph of Diana Rigg to make the place complete. (Perhaps on account of all the entries I wrote on spies?) Anyway, if some reader would be so kind as to mail a glossy, black-and-white photo (wearing the Emma Peel catsuit, of course) to the above address, I shall write a future entry of davidwong.com in their honor.