2004.05.16 Beijing, China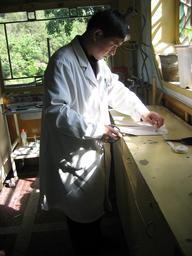 Crafting my Splint
On Thursday I consulted a hand specialist at the Ji Shui Tan 积水潭 hospital which has a reputation as one of the best in China in that field. The doctor gauged my level of sensation and ability of the hand to flex and move about. He told me I will be able to use it again, though shied away from saying it would regain its previous level of dexterity. His diagnosis was that its current limited state of mobility is more a matter of swelling due to infection than permanent injury. I hope so.
Ji Shui Tan was able to mold a resin-based splint around my wrist and hand, treatment that was not available in Xinjiang. The splint was crafted in an unexpectedly pleasant location. The prosthetics department was beyond a peaceful pond, away from the main building. It was housed in a Qing dynasty building, a former nobleman's residence. The elaborate decoration of both interior and exterior were well maintained. It was an odd contrast to see piles of artificial limbs and medical equipment stacked up to a beautifully painted ceiling.
The stitches are to be removed two weeks after they were put in, the splint left in place for three weeks. I'll begin physical therapy come June. While it's of course annoying to go about everything one-handed, I'd endure far more if necessary, given any hope of regaining functionality.
Joyce has served as translator, chauffeur, and given me a place to stay. I don't know how I'll ever be able to adequately thank her. I wish her the best: she's fallen in love with an American she met on-line last month and they talk of future plans with the utmost seriousness.
Aside from receiving adequate medical treatment, it's been nice to be back here and spoil myself with treats unavailable in Urumchi. My first night back we picked up half-a-dozen custard tarts. Dan ta 蛋挞 made their way from Portugal to Macao, then via Cantonese dim sum to some of the more fashionable restaurants around the mainland. There's one particular place they're available in Beijing that the pastry crust is impossibly light and flaky. For dinner last night we went back to that delicious Korean restaurant we first visited in November. If I get up early enough I want to spend the day at the Wang Fu Jing 王府井 bookstore: six stories of well-selected titles in Chinese as well as English.
I plan to return to Urumchi within a day or two. I've already missed a week's worth of class so shouldn't fall further behind. It's doubtful I'll manage to keep up with the homework, though. I tried writing out a page of characters with my left hand the other day with pathetic results. If I'm ultimately unable to use my right hand to write I guess I'll have plenty of time to develop the other one. But I'm hopeful that I may not have to take that route.