2004.07.03 Xi'an, China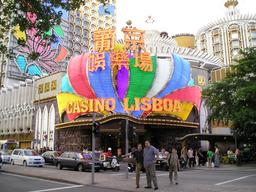 Hong Kong, Tokyo, and Singapore...
New York, Boston, 'n' Baltimore
They take you right down where you don't wanna go
You talk too fast and you walk too slow
--J.J. Cale, "Shanghaied"
It doesn't feel like ten days since I flew from Urumchi to Shenzhen. Everything has gone like clockwork meeting up with Michael and his mother, Judy.
Our time in Hong Kong was brief, though well-spent. It was their first visit, so we took in some of the better-known sights around the city: a tram ride to the top of Victoria Peak, exploring Hong Kong island on double-decker streetcars, crossing to Kowloon on the Star Ferry, and the night markets up in Jordan and Mongkok.
I also managed to pay regards to some of my relatives who live there: two second cousins (Eleanor and Lup Ng) and my great-aunt Julie. I first met most of my Hong Kong relatives back in 1992 while spending a few days en route to Pakistan. It's strange to see them again every now and then when I pass through, as I associate them so strongly with who I was back when we first met. That was my first visit anywhere in Asia; I was about to spend a year living in Lahore. It all feels so long ago, yet here are the same faces, living in the same apartments.
And for those who know Hong Kong, no, I didn't wind up staying in those Chungking Mansions of ill-repute. We found a clean, cheerful guest house on Kimberley Road just up the street.
From Hong Kong we took the hydrofoil to Macao. With a couple hours to kill at the pier prior to departure, Mike and Judy relaxed in a cafe while I wandered the building looking for a wireless Internet access point from which to upload our latest snapshots. I hit pay dirt outside of the Wealthy Club which is--I presume--a lounge for folks who are about to lose it big at the casinos in Macao. (Next door to the Wealthy Club was the Winners Club.) Poaching free Internet access from some pseudo-fat-cat club made me grin.
As a former Portuguese colony Macao has some lovely architecture and a continental flavor unlike Hong Kong. The sidewalks are colorful stone mosaics rather than bland cement. Imported wine, almond cookies, and custard tarts are available on every corner. The influence of other former Portuguese colonies was evident on the menu, with dishes such as West African baked chicken and spicy prawns from Goa on offer.
We spent a brief time watching others play baccarat at the Lisboa, Macao's main casino. It was once the place to be, though the felt on the tables has decidedly worn down. The Sands of Las Vegas just opened up some mega-complex closer to the ferry pier: seems like gambling in Macao is evolving into that Nevada cacophony of slot-machine beeps and bells. It actually struck me odd upon entering when I didn't hear those familiar sounds I now associate with casinos--the Lisboa's main floors are still table games only. I was tempted, though decided not to play anything.
We spent only one night in Macao, then crossed into China. While in the border city of Zhuhai I found the perfect jug to use as a base for my hookah. It's kind of a weird item to schlep all the way back to Urumchi, though I haven't seen anything in quite that shape available where I live. When I bought the jug it was filled bai jiu, 106 proof rice wine that alcoholic Chinese men like to down in shots, playing loud drinking games. Full, it cost only 24 RMB. I've found it's a handy prop to carry prominently: it keeps away the hotel touts, insistent taxi drivers, and other unwanted attention when arriving at railway stations. Who wants the business of some lush who walks around with a gallon of hard liquor? I've since flushed the contents down the toilet, but even empty it still gets some odd stares.
We took a bus from Zhuhai directly to Guilin. Well, we actually stayed in the town that backpackers built: Yangshuo. Guilin is the city associated with those traditional ink paintings of massive limestone peaks, rivers, and villages shrouded in mist. The area looks just like the pictures, but Guilin itself has evolved into a typically ugly 21st century Chinese city. Yangshuo is a town offering the same beautiful landscape, but has built itself up by giving western travelers the type of experience they want.
When I first visited Yangshuo in 1995 the town was full of backpackers in their twenties eating lasagna and apple crumble. I found it surprising that the majority of people I saw on the streets this time were much older travelers from western countries and Chinese tour groups. The main tourist street, Xi Jie, has been repaved as an attractive pedestrian-only thoroughfare. Nearly all business signboards are nicely carved in wood. It's strange to see a town that built itself as a destination where low-end European travelers could enjoy familiar dishes and meet other westerners now revolving around such a different category of tourist.
We took advantage of the improvements in Yangshuo's infrastructure and splurged on three nights at the Magnolia Hotel. 300 RMB a night is well above what Michael or I would normally shell out, but it goes a long way in rural China. That amount was enough to get us a tastefully decorated two-bedroom suite with air-conditioning.
Most of our time around the area found Michael and Judy riding bicycles around to scale the karst peaks and explore caves. Having visited Yangshuo a couple times before I was happy to just kick back in town, admiring the river and spectacular setting. Our final night we all took a lazy cruise downriver on bamboo rafts. The starting point was a bridge built in the 15th century, the Dragon Bridge.
We took a train directly from Guilin to Xi'an, a 28-hour journey. Everything in China seems to keep getting better. The hard-sleeper class seems to be consistently air-conditioned now, and there is such a better sense of hygiene than when I traveled by rail in the 1990s. Now I see much fewer people spitting into the aisle, throwing peanut-shells onto the floor, or letting their bare-bottomed babies pee onto the area people are walking.
We've just spent a full day around Xi'an. I find something special in the air of this city every time I return. We found tasty, tang bao zi, steamed buns filled with hot soup, in the Muslim Quarter. While I had recently visited the Great Mosque (in November with Michael and Joyce) it was nice to return and see the beautiful architecture and gardens. I hadn't realized it was established back in the year 742. Today I got up on top and walked around the massive city walls. The walls have been one of my favorite aspects of the city on each visit, so I was excited to finally scale them. It seems that they're rebuilding the portion across from the railway station, so perhaps whenever I next return I might be able to walk an entire circuit above the city.
At the moment we're at Potman Net, a hip Internet cafe just inside the South Gate. After we leave I'll probably try to pick up a rail ticket back to Urumchi, perhaps departing tomorrow. It seems like the intensive Uighur language session back at Xinjiang University may not begin until July 10, so it's nice to not have to hurry back should nothing be available for another day or two.