2004.09.02 Turfan, China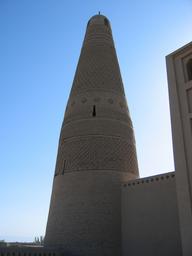 The Minaret of Emin Hoja
I've returned to Urumqi from a weekend in Silk Road oasis Turfan. I'm keeping that city as the dateline: I began penning this entry there and my log is crying out for new locations.
I spent this past weekend visiting Turfan with Nisagul. A former classmate of hers is from there, so we had a place to stay and locals to show us around. While we were away for just a short time, it was really good at many levels. For one, I hadn't realized how nice it is to be in a city where crossing the street doesn't feel like taking your life into your hands. Additionally, nobody in our host's family spoke any English, so that was great for Uighur-language practice.
I had already seen some of the outlying ancient Buddhist ruins on my first visit to Turfan in 1999, so stuck to visiting sites around the city this time. Modern Turfan is best known for its grape production. Roads around the city are covered with trellises wrapped by vines, so huge bunches of fruit dangle above the street. As our hosts were friends of somebody working at the Grape Museum we got to visit for free. It turned out to be nothing special, just a built-up attraction for Han tourists, though wasn't bad for the price.
The home we stayed in was at the edge of a karez, an underground system of irrigation channels used in desert regions since ancient times. Another Han-oriented museum has sprung up next to that particular canal, but as locals we didn't need to pay to visit it. I found this one actually interesting, as part of the museum included a walk along a length of the old underground stream. Of course, as with all other historical sites around the country the path ultimately leads tourists to the same end: photo opportunities with locals in traditional costume, and kitschy Chinese souvenir junk completely unrelated to the region.
On the outskirts of Turfan is a colossal edifice, the Minaret of Emin Hoja. It's a single tapered cylinder, with beautiful geometrical brick design criss-crossing its way to the top. A lovely mosque lies at the base. From the photos I had seen I was not impressed and hadn't decided to visit--it just happened to be on the way back from the Grape Museum. I was glad I did come once laying eyes on the detail of the tower. Still even more attractive was the adjacent structure at its base. Surrounding the prayer hall was a maze of rooms in cool, plain, earth colors; capped by domes with slits letting in just enough light; linked via short portals with those curved, pointed archways common throughout Middle Eastern design. The building was far from ornate but its simplicity exuded a certain tranquil, soothing sensation.
Life has been really good over the last couple weeks. I've continued meeting up with people and socializing often. As the summer Uighur language sessions have ended, the Seattle students are starting to head out. Aaron has already left to take this next year studying in Beijing. We saw him off with a farewell puff of the hookah and a night out at, of all places, an Urumqi bowling alley.
Peculiarly I find myself playing the position of old-timer who is connected to the city. I guess it has been six months I've been living in Urumqi, and nearly eight since I returned to China. I've been getting acquainted with new arrivals, then introducing people to others around town. Rian and Laura are two such folks, a couple of Boston grad students who will spend the next year in Urumqi--I nearly wound up living with them. I was considering sharing my new flat with roommates to decrease expenses, and they came recommended from Austr. David. They wound up in a place of their own, which actually relieves me. Right after I finished speaking with them for the first time I realized that sharing with a couple would mean having my own living quarters dominated by others. I was trying to figure how to diplomatically inform them that I changed my mind, but they themselves brought that subject up the next time we talked, much to my relief.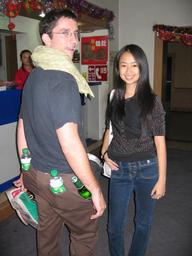 Aaron with Shahnaz--beer in
pocket, bowling shoes in hand

I am sharing the apartment with another roommate, if just for the next month or two. Paula is a graduate student from Berlin who moved into the dorms a few weeks ago. She was quite happy to stay somewhere much nicer for the same rate as on-campus, so immediately moved in once the place was ready. I haven't decided whether I'll try to find another person to live with me once she leaves in October. It is a three-bedroom apartment, which might feel a bit lonely over the bitter winter.

It's probable that Mike will pop in for a week or so this autumn, another stop along his zig-zag voyage around the globe. He's currently having the time of his life in Mongolia, which shares a lengthy border with Xinjiang Province. He'll likely first fly to Almaty in Kazakhstan, then cut back to Urumqi. While he's presently just a few hundred miles away, the land border with Mongolia is not open. In a way it almost makes sense, given the circuitous route of his trip.

Classes for the local students began this Monday. The past couple weeks have found all members of the freshman class decked out in camouflage fatigues, going through mandatory military exercise drills. It's bizarre enough to see them pacing around in circles, scrambling to line up in formation, and other such regimens. It was even more confusing to me as I hadn't known that this has been a mandatory component of matriculation to all universities across China for the past fifteen years. I was especially surprised on the first day: not only did it appear that hordes of soldiers were casually walking around the campus, but the initial batch I saw was a large group of Uighur girls. My first confused thought was, "Huh? Has the revolution begun? I didn't expect it to look like this..."

My classes will begin this coming Monday. Yesterday I went to see Rabiya, the woman in charge of arranging foreign students' registration. While I still stutter and am inexpressive in any language other than English, it really struck me how far my skills have come over my time here. I first met Rabiya on my second day in Urumqi, and found selecting courses excruciating then. At that time my functionality in Chinese was limited to either buying train tickets or checking into hotels, my ability speaking Uighur was next to nil. This time I was able to casually inform her that this term I want the bulk of my time to be with calligraphy instructors and to take less course hours in the languages. I should get a final schedule shaped up either today or tomorrow.

Apologies to loyal readers for the missing images across the site over the past few days. All of my images were hosted by Zach's home machine in San Francisco, the hard drive of which was lost in a power outage. I have managed to resurrect those used throughout specific web log entries but don't know when the entire photo gallery will be available again.