2004.10.23 Urumqi, China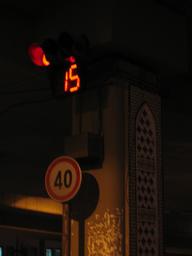 Traffic Light Timer
Before coming to China, I of course expected there would be differences living in a culture other than where I was raised. I suppose it's a natural part of any expatriate's experience that the way things are done back home should feel the most comfortable. Even trying to be open-minded about it though, I just can't understand a good bit of the behavior I see in China on a daily basis. It sometimes strikes me that were I fluent in Mandarin or Uighur, life here would still seem just plain weird. So, to share some of my present pet-peeves and occasional confusions of my existence here...
The other day I saw a middle-aged man on a step-ladder using a long rod to bat the branches of all the trees along the street--he was clearly knocking the leaves off. It seemed that this was his job, though I can't imagine why the city would employ anybody for this task. It's autumn and the leaves are falling on their own. What's the benefit in shaking them free a day or two before they do so themselves?

Why don't infants and toddlers in this country wear diapers? The results of children going about bare-bottomed in public places are predictable.

Who programmed the street-sweeping truck in Turfan to play tinny versions of a dozen different Christmas carols as it creeps along, spraying water and spinning its brushes round?

Traffic in Urumqi is chaotic compared to anywhere in the States. My beef is with the buses. I ride one somewhere every day: no complaints with their frequency--one pulls up to the bus zone every minute. But why don't they actually enter and stop at the front of the zone?--it is a separate spur, created so the buses can pull over without blocking traffic. Even if the zone is empty, the driver will stop at the end, meaning the trailing buses block the adjacent lane of traffic. Duh.

Why do construction projects simultaneously employ people tearing down old structures by hand with mallets, alongside backhoes that can accomplish in seconds what takes the laborers several days?

Why do they bother to build buildings with multiple entrances if all but one will be chained shut?

Where have all the mushroom and Smurf-shaped trash receptacles gone, a former fixture on every street corner in Chinese cities?

Why is it my apartment has wonderful heating, with steam-fed radiators keeping me toasty, yet I have no running hot water? To take a shower I have to plug in an electric water heater.

Purchasing anything from a shop in China is also a different experience. Where there would be one employee in the U.S., four will be found in China. Sometimes each worker will individually take on one of several tasks, all of which would be performed by one employee in the West. One member of the staff is on hand to help the customer select the product. Another is there just to write up a receipt for the purchase. Somebody else has been hired to take cash and make change. Invariably there will be a couple other employees just hanging out--who knows what their role is supposed to be?

(For what it's worth, the customer service in this country has undergone a complete reversal from what I encountered in prior visits not so many years ago. Previously, I would find a similarly excessive number of employees with too little to do in any given restaurant or shop. However, getting the attention of staff was just the first step in frustration. Half the time asking for anything meant waking the woman slumped onto the counter snoozing. Whether or not she had been previously asleep, the reply to whatever any question would be mei you, meaning, "Don't have it." I don't know how this changed recently, but now everybody seems to bend over backwards to help a customer. I find this especially curious as tipping is not customary here.)
In contrast to the cultural differences I can't comprehend, there are some things I've observed here which make so much more sense than how we do things in the U.S.:
Busy city intersections have not only traffic lights, but a large digital clock ticking down the seconds until the light changes color. I imagine that the additional cost would be negligible if installing the clock at the same time as the lights, but I've never seen this system outside of China.

Charging customers for utilities is also done in a more logical way. Rather than having a clunky meter with gauges that need to be read by an employee of the electric company, a smart-card system has been in place in all of the apartments and dormitories in which I've stayed. Units of electricity are purchased in advance and registered on the card. A small reader corresponding to each unit can be found outside tenants' doors. Stick the card in and the balance is credited. No need to have somebody come by to read the meter. No billing paperwork needs to be mailed out, or payment sent in.
I realize the examples of things I find more logical are a matter of China having built up its infrastructure at a much later point than the U.S. Still, why don't I see these things surfacing back there?
I still observe something new to me on a daily basis. I'd guess for every one thing I notice which makes more sense, I encounter ten others I simply can't understand. It's fun either way. What things do irk me are always minor; it's hard not to laugh at the relative weirdness of existence here.