2005.04.25 Urumqi, China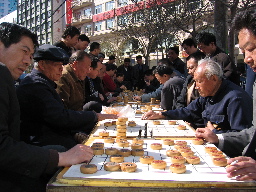 I've been more active in the kitchen since my return. I still eat out more often than I cook for myself, but the arrival of warm weather has brought fruit and ice into my blender. Below are two improvised blender-drinks I've been making at least once every week:
---
David's Mango Lassi
Makes 4 servings

2 juicy mangoes
Several large glops of yoghurt
Not too much sugar
1/4 packet of cardamon
All the ice in the freezer

Remove pulpy fruit from mango pit and skin. Plop into blender. Throw yoghurt on top, followed by sugar and cardamom. Ice cubes should go in last as weak blades will get stuck trying to crush without liquid. Blend until machine stops making a racket.
---
I haven't yet exhausted all potential sources, but I've yet to find one key ingredient: rose-water. This surprised me as rose jam is common in Uighur shops. Cardamom is impossible to find, even at western supermarkets such as Carrefour. I brought back lots of inexpensive packets of ground cardamom from my autumn trip to Almaty.

I find the yoghurt around China naturally sweet, lacking that bitter aftertaste of yoghurt in America. Best to not put in too much sugar.

Despite Xinjiang's proximity to the sub-continent, Lassi is an exotic drink in this region. None of my local friends had tried it before. Mangoes are available, but expensive, being shipped up from other provinces. They are generally regarded with suspicion by the Uighurs I've shared them with. Perhaps not surprising, given the abundance of other varieties of fruit throughout the province. Locals rightly feel they know all about fresh fruit.
---
David's Iced Mocha
Makes 4 servings

One Tetra-Pak of cream
Lots of sugar
Shot of Nescafe
All the ice in the freezer
Chocolate syrup
Dash of cinnamon

Throw entire box of cream into blender to whip it up. Add sugar and blend a bit more. Set whipped cream aside in separate bowl. Blend Nescafe and ice together with yet more sugar. Drizzle chocolate syrup along inner sides of glasses. Spoon in coffee/ice mixture. Top off with dabs of whipped cream, capped with a spiral of chocolate syrup. Finally, sprinkle a pinch of cinnamon atop the whipped cream.
---