2005.05.01 Beijing, China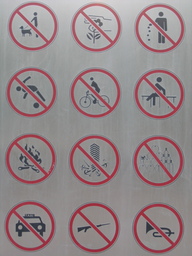 Sign outside park,
Ma Dian, Beijing
I'm back in Beijing once again. While I was visiting the U.S. this winter I invited brother Ben to come visit me in China for a few weeks. I flew to the capital the evening of the 25th, Ben arrived from the U.S. the next day. We'll spend the weeklong Mayday holiday together exploring Beijing and Xi'an, then take a train back to Urumqi. Ben's girlfriend Sandra will fly in May 3 to join the fun.
We stayed at Joyce's apartment over our initial days but shifted over to Aaron and Susan's flat at the Medical University last night. Joyce's on-again off-again relationship with her American boyfriend seems on for the moment. He's in town for ten days, hence the move. I hope they can resolve some of their issues over this visit.
Ben and I have been laying low in Beijing. Most of our time has been spent socializing with friends, going out to favorite restaurants around town. It's Ben's first trip to Asia so it's interesting to be alongside, hearing his impressions. He's attuned to aspects of life here that I no longer notice: the exposed piping throughout the interior of houses; the new exercise equipment installed around courtyards and sidewalks across the country; the excessive numbers of primly uniformed women who wait tables, work the floors of supermarkets, or serve as tellers in banks. It's wonderful to be seeing a country afresh again through another's eyes.
Being back in town is something of an experience for me as well. I do prefer Xinjiang, but have to admit that there is a lot more life in Beijing. The parks are far more pleasant, with trees and vegetation unlike what the desert can support. Traffic is heavier, though less chaotic. I'm tempted by familiar western food which would be rare in Urumqi. It seems like there is a hip coffeehouse or pizza parlor on every corner out here.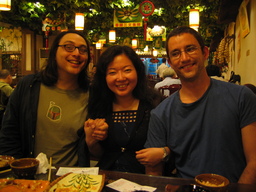 Ben, Joyce, & Aaron
Over the days we're waiting on Sandra's arrival I plan to run errands I couldn't attend to around Urumqi. My mobile phone (which I acquired by trading Catherine five liters of Diet Coke) has never supported Chinese characters. Nowhere in Urumqi seemed able to add them, it seems like there are dozens of makeshift stalls around the Xizhimen district where I can take care of that. Browsing around Beijing bookstores is a pleasure. The vast majority of foreign-language titles available elsewhere around this country tend to be 19th century British literature: Tess of the d'Urbervilles, David Copperfield, Alice's Adventures in Wonderland. These must be the required books in English literature classes: student guides and condensed versions are always found on the next shelf over. Fuddy old writing forms the staple of English-language aisles of Beijing bookstores as well, but at least there there are imported publications and greater variety to what's printed locally.
I've been surprised by how quickly time has has been passing for me here. I had intended to spend a year in Kashgar when I left the U.S. in September of 2003. It's now approaching summer of 2005 and I still haven't decided when I'll be ready to leave. I do have plans to travel around this summer, hopefully to Tajikistan, Uzbekistan, as well as Chinese provinces close to Xinjiang. I figure on staying through the end of this year but am unsure as to whether I'll move on come 2006. I feel that I'm still making progress studying language and calligraphy. I love my apartment, have good friends, and have built up a comfortable familiarity with the ins-and-outs of Urumqi. I do intend to spend stretches living in other cities (Seville and Vancouver) but am in no hurry to do so.