2005.05.07 Xi'an, China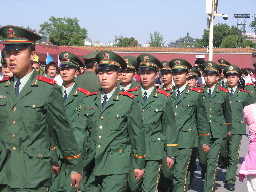 No. side of Tiananmen Sq.,
Mayday 2005
Ben, Sandra, and I have been in Xi'an for three days, stopping off on the way out to Xinjiang Province.
I always enjoy visiting this city. The Great Mosque is serene, with lovely gardens and ancient calligraphy etched into stone tablets. Seeing the army of terra-cotta warriors for the second time in a year was no problem: I learn something new with each visit. I hadn't previously realized that each clay soldier was originally painted different colors. For some reason archaeologists excavating the figures can't retain the pigments, which vanish within minutes of exposure to air.
When I was in Xi'an last year with Michael and his mother I saw them rebuilding the last gap of the old city wall, across from the railway station. I had hoped this would allow for me to hike a complete circuit around the original city limits some day. I finally did that this afternoon.
It took me about four-and-a-half hours from start to finish. I'm guessing that was a total of 18 km. I started off with Ben and Sandra. There are long, low ramps leading up to the top of the walls. However, the entrance closest to our hotel was a narrow, high, metal ladder. We chose to scale that.
The top of the wall is broad. I'd guess that maybe 25 troops could have stood shoulder-to-shoulder comfortably. These days there are a few scattered tourists strolling around. Now that the wall is complete, there are bicycles for hire, or the extremely lazy can sit in an electric cart, driven by a tour guide.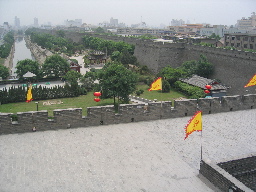 Overlooking the wall
from atop the north gate
I may call on Shahnaz while in town. She's moved out here from Urumqi. We caught up briefly while she visited Xinjiang in the days right before I flew to Beijing. It would be good to have more time to chat and hang out in her newly adopted city.
I'm back at Potman Net, the same Internet Cafe I've come to on my last couple visits. I remember being impressed the first time I visited with Michael and Joyce in November of 2003. At the time it was a long, dark cavern of LCD displays: hip and smoky. Now it's even nicer, with huge cozy sofas surrounding carrels of four workstations each. The room is bright, clean, and airy. I believe it's now non-smoking, as well. Relative to the prices at Internet cafes in Urumqi, it's a bit pricey. Back home it's only 2 RMB per hour, or about U.S. 25¢. Here it's a pricey 3.5 RMB per hour, but I surely can't complain, given the comfortable setting.
Ben and Sandra are resting after an early departure off the wall. I'll probably ring them for dinner now. We have another full day in town, flying to Urumqi on May 9. It's not quite as fun to travel by air, though given the brief amount of time they have in the country it makes the most sense. The price isn't even that much more than a rail ticket would be. These days I've mostly been buying tickets off of the Internet, using Ctrip, a wonderful site for finding inexpensive fares within China.