2005.06.10 Urumqi, China
It's been just over a year since I wrote an entry for davidwong.com offering glimpses and backgrounds of the people with whom I had regular contact at the time. Below are updates of where each of those folks are now and what they've been doing in the time since the original entry was written: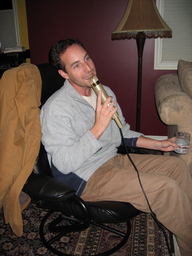 Mike has yet to complete his global journey. After he finished his Oracle database certification program in Bangalore last June, I met up with both Michael and his mother in Hong Kong. The three of us traveled around China for several weeks. After we all parted ways Michael took six weeks trekking across Mongolia. At the end of that journey, exiting the western border of Mongolia put him proximate to Urumqi. He visited for about ten days, getting well-acquainted with my friends and life out here.
The two of us continued on to Alma-Ata in Kazakhstan. I had to return to Urumqi to attend class, but Michael kept on heading west. Crossing Uzbekistan, Azerbaijan, Georgia, and Turkey, he eventually arrived in Europe. Following time cycling around Italy, he took a flight back to the U.S. for a brief visit. We met up in Seattle in February, the photo pictured here was taken on a karaoke night at Mala and Vega's home.
In March Michael flew from Seattle to the Caribbean island of St. Lucia, from where he embarked on a month-long sailboat journey to Panama. The trip was an utter disaster, with equipment giving out and difficulties the entire way. The trip was forced to an appropriate end when, upon hitting the breakwater to the Panama Canal, the yacht sunk. Michael's backpack, cash, and other possessions are now permanently submerged between North and South America.
The most recent messages I've received from Michael are from Quito, Ecuador. He's made his way there via Colombia and seems to be thriving on the opportunities to speak Spanish and attend soccer matches frequently.

Joyce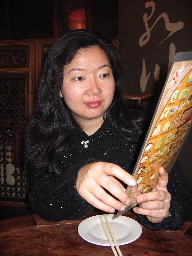 I've seen Joyce several occasions in the last year. We met up when I visited Beijing in December of 2004, as well as March and May of this year.
Joyce has gone through many changes over the past year. She gave up her own flat and moved into her mother and step-father's home. She met an American to whom she is now engaged. She has continued to travel and make money writing about those experiences for Chinese magazines. Last summer found her funded by a travel journal to explore caves and remote regions of one of China's least-visited provinces: Guizhou.
Joyce played host each time I passed through Beijing, as well as for Ben and Sandra on their recent trip.
Paul returned to the U.S. last summer after a trip to Kashmir and Ladakh with his sister. Upon his return to America he moved to New Mexico to take prerequisite courses for a graduate study program combining Evolutionary Anthropology and Psychology. The focus of his research should take him down to Bolivia over the next several years.
The two of us have kept up over e-mail since Paul's departure, though haven't actually seen each other in about a year.

Zhi Shuang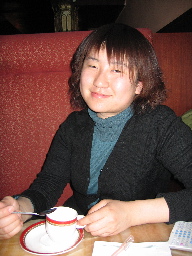 By mid-summer 2004, Zhi Shuang decided to sell her campus coffeehouse. It was a shame--aside from essentially being forced out of business, the new buyers immediately made ugly changes to the decor. I stopped going there: the atmosphere just didn't feel pleasant any longer.
Despite being "model entrepreneur," Zhi Shuang was unable to escape the headaches of life, let alone doing business, in this country. Every so often when I happened into the cafe she would share some new crisis threatening to shut her down. One time it was a demand that 10,000 RMB be paid by the following weekend or her electricity would be shut off. There is a high amount of corruption at the local level across China. Local officials come up with artificial, illegal taxes and fees which are imposed on farmers and others within their jurisdiction. Eventually, Zhi Shuang decided to just sell the cafe, approximately breaking even.
After selling her business she was hobbling about on crutches for several weeks, owing to a chronic leg condition that she finally sought medical help for. After she was back on her feet again, she tried life in the working world, taking on a job as an office employee. The existence was bleak and mind-numbing: despite the lack of any work to do, her employers demanded that she constantly appear busy. They also insisted that she "lose her schoolgirl appearance" and go out and buy new clothes, stop wearing glasses, and grow her hair out.
Depressed and fed up after a few months, Zhi Shuang left the job and returned to school. Things are better now. She is presently taking evening courses studying a field in which she has always had interest: psychology.

Nisagul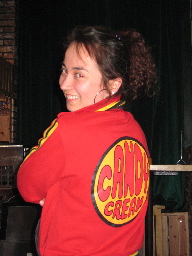 I spend more time with Nisagul than anybody else in Urumqi. It stands to reason--despite a few moves back and forth, she's been staying exclusively at my flat over the last couple months. With the school year about to end, her plan is stay on here after graduation.
In the past year, Nisagul's level of English has zoomed up. Much of that has to do with the nature of our existence, speaking both English and Uighur at home. Also, she started work a couple months ago at the Fu Bar, mainly as a means to practice English with its expatriate clientele. We're in no competition, but I secretly find it a bit embarrassing that her progress in English has surpassed mine in Uighur. It shows that she's far more dedicated to learning than I am, probably smarter to boot.
Nisagul is considering various options post-graduation. At the moment she's trying to finish up her thesis, a requirement to graduate. She'll then take the CET, a national test to gauge English proficiency. A high mark might help in finding a better job. She's also considering a program that would give certification as a tour guide. This would be a perfect job for Nisagul, as she's sociable, immediately-liked, speaks English and Chinese fluently, and knows the details of historical and modern-day Xinjiang well.
Last year Nisagul made two trips to Turfan, once with me, the second time along with Michael and Rahila. An Urumqi native, Nisagul has never been farther from home than that three-hour drive to Turfan. We're hoping to hit the road together again later this summer. Along with Tiffany, and perhaps Joyce, we plan to travel along the road that winds from Kashgar to Lhasa.

Shahnaz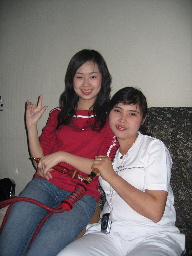 Shahnaz tends to have lots of boyfriends, so I was surprised when I returned to China at the end of winter. Shahnaz had called in the previous days, leaving several messages (relayed via Nisagul) that she had moved to Xi'an. Evidently she ran off with a Chinese businessman who is based there. At the time I figured that, like stints with her other lovers, it would last a matter of days, upon which time she'd find somebody new. She's been there for several months now, so perhaps she's finally found the right match.
I keep up with Shahnaz sporadically. She initially seemed unhappy with her move, being new to the city and having no friends. She would call often just to say that she was bored, though seems to have adjusted now. I've heard little from her in the last month or two, which I take as a sign that she's doing well with her new life. We did catch up this spring when she visited Urumqi for a week while her man was on business in Shanghai. I don't have a solo photo from that most recent visit, this one I took shows her alongside her close friend Marhaba.