2005.07.28 Bishkek, Kyrgyzstan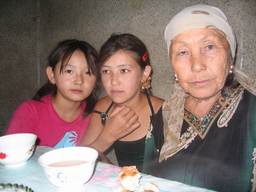 Kyrgyz Woman and Girls
One thing has stood out since leaving China: how many kids live in this country. Walking around cities and villages it seems that half the population must be under 15.
My first presumption was that this difference must have something to do with China's one-child policy. After reflection, I don't think that's the reason. Everybody I know back in Xinjiang province has several siblings--China's minorities are not restricted to one child. Maybe it's just being away from the big city that brings the young faces out to the streets.
I'm still working my way slowly around Kyrgyzstan. There's really not much choice but to go slowly--the roads are terrible.
After leaving Osh I took a rickety bus up to the mountain village of Arslanbob. It was a good place to spend a peaceful several days: cool temperatures, high peaks of the Tian Shan range, acres upon acres of walnut groves, and friendly people. The entire village population is Uzbek, good for communication. Spoken Uzbek is a lot closer to Uighur than Kyrgyz is.
I found a homestay offering lodging and breakfast for 250 som, about six U.S. dollars. The family were the perfect people for me to spend time with: open and welcoming, with limited English skills. In the evenings we chatted over dinner in Uzbek/Uighur. The patriarch of the family was 78 and an interesting person to chat with. I asked him about how things were before independence, back when it was all the Soviet Union. What was the impression of Americans then?
The answer was unsurprising, but still made me laugh: "Oh, you know, back then you were enemy #1."
Most of my communication was with his granddaughter, Nazagul, the liason between the family and guests. Having hosted other foreign guests, I presume that she must have spoken passable English. After we'd already established communication in her native tongue though, she was reluctant to change.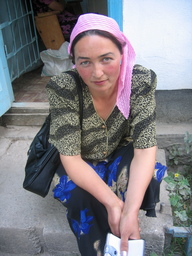 Nazagul
During the days I got out and explored, trekking around the area on foot and horseback. I had ridden a horse only once before, many years ago. I was initially a bit intimidated, but found there wasn't much to it: Put foot in left stirrup. Mount the horse. Sit in the saddle. Pull the reins towards the direction the horse is supposed to turn. Stop the horse by pulling both reins up. Yes, I am a city boy.
From Arslanbob I made my way via public bus and shared taxi up to the capital, Bishkek. The shared taxi system is a common, impromptu way to get around former Soviet Central Asia. People who have cars wait for people who need a ride. After a price has been set and enough passengers have arrived to fill the car, the journey begins. Sometimes it's necessary to wait hours for enough people going your way.
The distance from Arslanabob to Bishkek itself is fairly short. If the roads were well-paved the entire way, I estimate it would be a journey of six hours. However, unpaved roads mean it can take hours to go 100 kilometers when traveling around Kyrgyzstan. Combining public buses with faster private cars, I managed to make the trip in two days.
I shared my taxi with the driver, another man returning to Bishkek, and the woman and girls pictured in the photo atop. It was worth it to spring more for a car rather than the public bus. Aside from making better time, the stops were less frequent and more enjoyable. We stopped twice, once at a tea-stall, the other time at a yurt in a pasture of the side of the road. Again I was offered kymis; this time I drank it all down.
Bishkek was a nice place to rest for awhile, a large city with restaurants offering European food. I found a place catering to westerners with a book exchange. I swapped a copy of a boring book I bought in China, Four Classic American Novels for a childhood favorite, The Phantom Tollbooth. It's been nice to have engaging reading material again.
I hoped to spend only two nights in Bishkek before heading east to Issyk-Kul, a great lake in eastern Kyrgyzstan. However, something I ate a couple days after arriving made me so sick I stayed on extra days to recover, over which time I did nothing but sleep and run to the bathroom.
Other than the hotel toilet, my strongest impression of Bishkek has been the scams. I'm used to unwanted attention in the form of persistent guides offering their services, vendors demanding I buy their trinkets, or young men on the street asking to "see what American money looks like". Most places I've traveled though, once a price is set, it stays. I found what's agreed upon initially means nothing in Bishkek.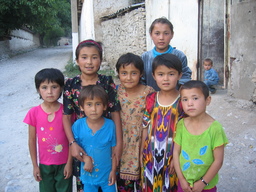 Children, children, everywhere
When I first arrived I tried to get in touch with a friend of the family I stayed with in Arslanbob, hoping for another homestay. A man on the street offered use of his mobile phone for a reasonable rate: 8 som, about 20¢ U.S. per minute. However, when I'd finished a two-minute call he insisted that the price quoted was per credit, rather than minute, which somehow came to $3. I knew that there was no way anybody would really pay that much for phone service, having paid 12¢ to use a shop phone in Osh. Still, I questioned if he hadn't quoted exactly that rate initially, and I lost it in lack of language skills.
I was sure overcharging was standard in Bishkek after using an Internet cafe to update this website. The woman at the desk insisted that, yes, the hourly rate was 40 som per hour, but they also billed by bandwidth used, bringing my tab for two hours to 155 som.
The amounts have been negligible each time, but it's strange to be in an area where the price changes after it's been agreed upon. Rip-offs are common everywhere, but the late price switch is not one I usually encounter.
Off to the lake next: Issyk-Kul.