2005.08.30 Urumqi, China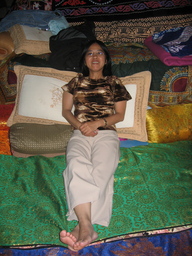 Auntie Martha relaxes in
Matthew and Bonnie's Flat
Aunt Martha has come and gone. Her time in Urumqi--indeed, all of China--has been brief. Her flight back to the U.S. leaves from Beijing this morning.
We did manage to squeeze in a lot of activities together. I've had few visitors out this way, but have developed a standard routine for all who have come: a day or two in Turfan, frequent trips to my favorite Uighur restaurants around Urumqi, evenings spent playing card and word games with friends.
With each friend or relative who has visited I've wound up going somewhere new myself. Michael's visit ended with the two of us taking a week in Alma-Ata. Ben and Sandra were a convenient reason to see the Shang Shui amusement park, a short walk from my apartment. Aunt Martha invited me to go to Tian Chi, known in English as Heaven Lake.
Tian Chi is one of the main attractions in Xinjiang for Chinese tourists from other provinces. Located in the mountains less than two hours' drive from Urumqi, Tian Chi's climate contrasts sharply with the desert covering the majority of Xinjiang. The lake region is heavily forested and cool, feeling more Alpine than Gobi.
I hadn't previously visited Tian Chi. As a top tourist destination, I envisioned the worst: hordes of people stepping off buses to snap photos while chattering on their mobile phones, going no farther than the sign marking the entry location. That element did dominate the stretch of shore near the parking lots, though I was glad we made the trip. The area is beautiful. Spending most of my time in big, polluted Urumqi I'm always surprised how pleasant it is when I get out somewhere away from the city. The mountains surrounding the lake were recently capped with snow; the lake itself was a striking azure. We found it fairly simple to wander from the area near the parking lots and get away from the crowds.
We spent Aunt Martha's last evening in Urumqi at Matthew and Bonnie's flat playing Cranium. I shall miss Matthew and Bonnie: they've run off and gotten married; Matthew begins a new job in Hong Kong at the end of September. I'd started seeing more of them in recent months, often over games or a meal at somebody's flat. Along with Tiffany the four of us competed once in the Fu Bar's new biweekly pub quiz. A frequent baker, Bonnie inspired me to get busier in the kitchen myself. She and I put cream cheese brought by Martha to good use Monday afternoon, making cheesecakes--one with an Oreo crust.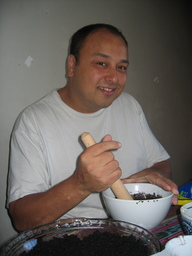 Crumbling Oreos
into Pie Crust
Upon returning from Alma-Ata three weeks ago I found my home DSL service out. I had pre-paid for a year in advance: that period expired some time over my travels. While it is so much less convenient to go to an Internet cafe, I have found a benefit: it regulates and lessens the time I spend on-line every day. Before, I found Web browsing an easy distraction. It seemed there was always some interesting article or new e-mail to catch up on. Now, I have to make a conscious decision to endure a smoky room full of noisy game-players. Logging on from most locations around Urumqi costs only 2 yuan, about U.S. 25¢ per hour. There are locations everywhere, in fact three right outside my front gate. But as it now takes more than a minimal effort to go on-line, I've been spending less time doing so.
This week has seen the beginning of the new semester. As with other universities across China, members of this year's incoming freshman class at Xinjiang University are required to wear camouflage fatigues and participate in military drills around the campus. My bedroom window overlooks several tennis courts where I often see students marching in formation or performing other exercises. It surprises me how thoroughly they look the part of a soldier. The 18-year olds I saw awkwardly moving onto campus last week take on a completely different air, appearing organized and disciplined while in formation. It is only when they stray from the squads after exercises that the illusion breaks. Though still in uniform, it is clearly young students who are giggling, strolling around the grounds casually holding hands, and chatting on mobile phones adorned with cute animals.
I won't be enrolling this term. Tiffany, Nisagul and I should be hitting the road within a few days.