2005.09.08 Kashgar, China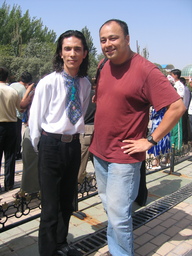 Arken & David
After a full night's sleep and mellow, easy day around town I now feel properly rested. I'm up to composing the entry I wanted to write when last logging on: that update was pre-empted by an argument I got into at an Internet cafe.
I've been back down in Kashgar for several days. Nisagul and I took the Monday night sleeper bus down from Urumqi. We were hoping to get rail tickets, but none were available for the day we wanted to leave. The bus ride actually took about the same amount of time, 23 hours, at half the cost of a train ticket. Still, I would have shelled out the extra yuan for the comfort of the train. The Urumqi/Kashgar line is one of the nicer rides in China.
Tiffany followed on after us, arriving by rail Tuesday. We've found cheap lodging at the Seman Hotel--backpacker central since my first visit to Kashgar twelve years ago, probably long before that as well.
On the way to receive Tiffany at the railway station Nisagul and I had a couple hours to kill. I proposed wandering in the direction of the Eid Gah mosque. We were surprised to hear traditional musicians performing from atop the building, two men were playing drums, one blowing the ney--a horn common around the Middle East. "Why is there such a big crowd out front?" Nisagul wondered aloud. "Today isn't a holiday."
As we drew closer we realized what the main attraction was. Uighur pop-music star Arken Abdulla was filming a new music video there. Dozens of men and young boys were dancing in the plaza in front of the mosque as part of the shoot.
I had seen Arken perform live in concert twice before. The first occasion was with Paul, scarcely three months after I arrived in Xinjiang. The second occasion I treated Nisagul, Rahila, and Shamsiya to a concert the next time he came through Urumqi.
Arken's music probably has the most appeal to Uighur teenagers and college students. It's bright, peppy, leaning towards bubble-gum. All the same, I do like it: Arken sings in both Chinese and Uighur, mixing traditional flamenco style with local Xinjiang instuments.
Our Kashgar visit should be the first leg of the road journey to Tibet. I speak in the subjunctive as there are lots of unknowns: scant transportation, unclear regulations prohibiting foreigners from traveling along that route, as well as the difficulty of the journey itself. I've never been at altitudes like we'll encounter--the highest pass is at 5,400 meters.
Of course, the setting is the whole purpose of the trip. It would be easy enough to pick up a non-stop flight to Lhasa from several cities around China. However, the road from Kashgar will take us from Xinjiang Province, along the northern side of the Himalayas, across Chinese-held Kashmir, then into Tibet itself. En route is the sacred Mt. Kailash. We hope to walk all the way around the foot of the mountain: completing a circuit absolves a lifetime of sin. If we decide to repeat the process enough times, we can write our own ticket to nirvana. Circling the mountain 108 times brings about enlightement.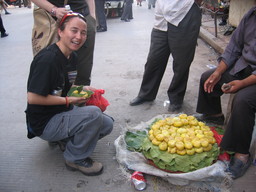 Nisagul Inspects Figs

Yesterday was an easy day: Tiffany and I spent a couple hours on the balcony of a teahouse in the old Uighur part of town. We watched passers-by and chatted about the next stage of the journey over black tea and Uighur dumplings (chuchura).

At this moment, Joyce is on her way to Kashgar, coming by jeep from the Pakistan border. She should arrive within a few hours. Aside from catching up and introducing her to Tiffany and Nisagul, my main goal with her is to return to a local dumpling house. When we met two years ago our first nights together were spent here in Kashgar. One nearby restaurant specializes in dumplings and Dongan (Chinese Muslim) dishes. Neither Joyce nor I have eaten better jiao ma ji elsewhere in China.