2005.09.09 Kaghalik, China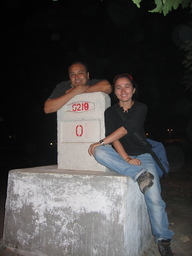 Milestone Marking Start
of Road to Tibet
We've traveled from Kashgar to Kaghalik, the city where the road forks. We're hoping to head south at the juncture where GD219 (State Road 219) begins. That's the road to Tibet.
I was a bit antsy at the local bus station in Kashgar, figuring the official policy might be to refuse to sell tickets to foreigners. Travel along the 219 is restricted: foreigners aren't allowed to make the journey to Tibet. Privately I speculated there might even be police officers about the station in Kashgar to keep backpackers from reaching Kaghalik, where the road begins.
The reality was quite the opposite. I joined the end of a ticket queue which didn't appear to be moving. For whatever reason the woman at the ticket window beckoned me forward ahead of the eight or nine other people standing in line. I asked her for three tickets for the next bus to Kaghalik. She printed them out, took 29 yuan for each (plus an additional 1 yuan for insurance) and we were on our way.
The ride from Kashgar to Kaghalik covered a mix of terrain. Settlements became more scattered. The areas of habitation we passed through were clusters of adobe houses, split by winding roads lined with poplars. Corn, vinyards, and other evidence of agriculture connected the villages in places, though at one point there was a stretch of barren uniformity that made me think perhaps we'd left habitable areas for good. The road became perfectly straight, bound on either side by empty expanses and telephone poles running parallel for miles. Happily, the dull scenery gave way long before we reached Kaghalik.
Upon arrival we checked into a recently-built hotel in the center of town: The New City. Before checking in I had hoped to find somewhere for less than the 30 yuan per bed the New City charged. It was clean and comfortable though, so I didn't mind the price.
I was surprised by the size of Kaghalik. I envisioned a few makeshift dumpling houses and auto-repair stalls at a fork in the road, but Kaghalik was a real city, with a population of 150,000. The city center was identical to others across China: a uniform grid with central plaza, or People's Square. The town was clean and bright; colorfully painted streetlamps in the shape of dolphins gleamed above the main north-south axis. Typical Chinese design on the edge of nowhere.
We met up with Maryamgul--a classmate of Nisagul's from Xinjiang University--for dinner last night. The four of us took dinner at a restaurant just north of our hotel. It was an average-looking Uighur place, but had the best liver kebabs I've had. Thick, tasty, and cheap, I couldn't believe how delicious they were. I ordered four but was able to eat only two, they were so large.
After dinner Nisagul, Tiffany, and I went out to the area known in Uighur as nul kilometer, or Zero Point. That's where GD219 begins. It was already dark and we had no intention of getting a lift that night, but were curious to poke around and see what was out there.
Zero Point was a bit outside of the city limits, but we found that Route 2 of the city bus line went right there.
Zero Point turned out to be not just the beginning of the road to Tibet, but also the site of a major military encampment. Coupled with the multitude of truck stops along the beginning of the road, it's not hard to guess what we found as the third-largest group of establishments: a strip of several beauty salons lit by dim pink lights.
Most of these were simple store fronts bearing a sign, Mei Fa Wu, or Hair Salon. Few had any sort of hair styling equipment. Visible in the back of each was a half-drawn curtain, revealing an empty bed.
(We later met foreigners who saw a sign at one of these places offering hot showers. Unaware of their true nature, they asked to take a shower. When the madam asked if they would like to have a girl assist them in the shower, they blurted out a startled, "No!" Having turned down the offer of a shower with a girl, the madam then asked if they wouldn't prefer a boy.)
After asking around (at a pharmacy, not a beauty salon) about tickets and trucks to Tibet, we hopped on the 2 back into the city. When we returned to People's Square we found the plaza packed, many people decked-out in fancy clothing. It turned out that today is a holiday observed across China: Teachers' Day. We strolled around, taking in the crowds, music, and neon sculptures scattered around the square. By 10:00 we'd had enough, went back to the New City and conked out for the night.