2005.09.13 Pusha, China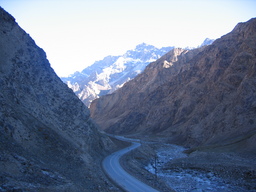 We got off to a late start last night. We're traveling in a convoy of two: Nisagul, Tiffany, and I in one truck, our new companions Michel and Taichi in the other. Ours has a load mostly of lumber and woven mats.
69 kilometers down the road from Zero Point was the first check. The drivers made a deliberate choice to leave under cover of darkness, hoping that would help us pass the first checkpoint. We waited a distance away from the barrier before attempting to cross. The drivers said that a Uighur friend of theirs would be working after a midnight shift change, their presence would help us to get through.
Nobody paid too much attention to the passengers inside the cabs, so we made it through. Just 50 meters beyond the checkpost sheds we pulled over and spent an uncomfortable night in the cab of the truck. Evidently we couldn't leave the area as travel permits for the trucks hadn't been secured. The drivers had also been to that same police station yesterday afternoon, the one where we wasted an hour-and-a-half waiting for the officers to return from lunch. They too left empty-handed.
An additional complication: both of the trucks were grossly overloaded. Each truck was fined 500 yuan, which the drivers didn't have. We were asked to give an advance on our fare, which I did a bit reluctantly. If this was what it took to get through just the first checkpoint we might well get sent back from some point further down the road and be out a fair amount of money.
It's now morning; we're currently in the tiny village just beyond the checkpoint. Stopping off here reminds me of Nepal. It's a small mountain village, coming to life with dawn. Hindi film music is playing at the neighboring restaurant. We're at a simple outdoor chaikhana (teahouse) about to have breakfast.