2005.10.27 Urumqi, China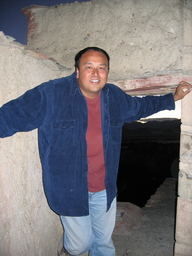 I still can't figure out what I should do at the end of this year. Since the beginning of the month I've been debating whether I should tough it out over Urumqi's winter or head back to the U.S. for a brief visit.
I have ruled at least one possibility. I had considered returning to the U.S. just before Thanksgiving, then trying to find some sort of temporary work over the next three months. That plan would have had me return to China at the end of February, in time for the spring semester at Xinjiang University.
Taking three months in the U.S. just doesn't feel right. I really ought to earn some money, but I feel I should be spending more time focusing on the areas of study I came to Xinjiang to pursue. It would feel wrong to leave China for such a long period without more proficiency in languages and calligraphy.
I've decided that if I should visit, it will be just for the holidays. I think whether I actually do go will depend on what airfares I can find come mid-November. I've been tempted by a fare I've seen on Northwest Airlines: round-trip between Shanghai and California for 4,230 yuan, about $530 U.S.. I thought about the additional costs of getting between Urumqi and Shanghai, then between San Francisco and Seattle on both legs of the trip. That would make it more like $950, which doesn't sound so good.
There aren't a lot of deals on international fares originating in Urumqi, so I'll likely have to pay the cost of a ticket to Beijing or Shanghai, anyway. I'm holding out for a similarly cheap fare to the Northwest deal, but taking me straight to Seattle, avoiding the cost of a California detour. When I visited the U.S. last winter I found a comparable price on a PEK=>SEA ticket.
My home DSL service expired over the summer. Knowing I was going to be on the road again, I decided not to renew it until returning from Tibet. Despite that I'm now back and the cost would be cheap--60 to 100 yuan per month--I've decided not to renew it all. Without home Internet access I've found myself spending more time reading, studying, and cooking. Even though it will be less convenient and marginally more expensive to log on from outside my flat, I think it will be worth it to keep me from falling into aimless Web surfing.
Internet cafes are cheap and never far away. I've found one near the Grand Bazaar: Hello World, a.k.a. Ni Hao Shi Jian, a.k.a. Salaam Dunya. Hello World is clean, has a speedy connection, new computers, and forbids smoking. The location isn't as convenient as the places right outside my front gate but those benefits are worth a 25-minute walk or even paying a 6-yuan taxi fare. It costs 2 yuan per hour to log on around Urumqi, about U.S. 25¢.
A couple nights ago I went for my first massage since returning from Tibet. While lying on the massage table I contemplated that if I were to go for a massage every night while in China it would cost a little over $100 per month. Given that a one-hour session most places in America costs about that much, I seriously mulled it over.
Nisagul came along for the massage, as did Chris, a Canadian who teaches English and studies languages in Urumqi. While walking back from the massage parlor Nisagul suddenly whispered loudly in English to both of us: "Keep on walking and be careful. There are two thieves following us."
I figured that if there actually were pickpockets about that would be a stupid approach. I took a glance over my shoulder. There were two men flanking us about five paces behind. I suggested to Nisagul and Chris, "Well, why don't we just stop here?" and casually picked up a magazine at a newsstand to our left.
The two men continued on past us, I asked Nisagul how she knew they were there. She said that they must have presumed that we were all foreigners. One said to the other in Uighur: "Why are we still following these guys? We've already seen that there's nothing easy to grab from their pockets."