2005.12.12 Shanghai, China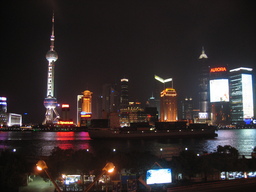 Pudong Skyline
I'm surprised by Shanghai. I've been here little over a day, but it's developed in a way I haven't seen elsewhere in China.
I've spent over two years exploring other corners of China so thought I had a sense of the country. Shanghai has stretched my viewpoint. Neon skyscrapers tower from across the river over stone colonial architechture. Smart, high-end boutiques selling stylish European fashions abound. Just to get from the airport into the city I took the world's fastest train--a magnetic levitation line that topped out at 432 km/h (300 mph).
I'm stricken by how many people speak English well, and the abundance of familiar brand names I haven't seen elsewhere in China. Japanese convenience chains Lawson and Family Mart seem to be located on every corner. While I have seen the likes of America's Tony Roma's and Starbuck's up in Beijing, Beijing still feels like a Chinese city. Shanghai feels like somewhere between Japan and the U.S., or perhaps some developed nation unto itself.
I've been staying at Lisa's flat since arriving in Shanghai a couple days ago. She's just begun a job as an attorney for a firm that specializes in intellectual-property law. Zach is coming for a two-week visit this Friday. If all goes according to plan, the couple will move up to Beijing this February.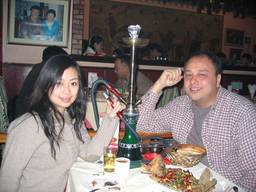 Shahnaz and David
share a hookah
My last few days in Beijing were sociable. Joyce was consumed with work so I met up with other friends around the city. Shahnaz was in town visiting some boyfriend-du-jour; we found the perfect place to meet--a Xinjiang restaurant with hookahs.
I also got together in Beijing with a couple of the Chinese backpackers I met while on the road in Tibet. Wang Lei was that gadget-geek from Shanghai with whom I shared rides, hotels, and meals over much of the way to Lhasa. It turned out that while exploring Kashgar he fell in love with a backpacker from Beijing and has since moved to the capital to be with her.
Lu Jun was the backpacker who impressed me with his knowledge of Tibetan culture. I was further impressed over this last get-together, learning even more about him. I had known that he had lived in Pakistan for several years, but I hadn't realized that his job in Beijing was (until recently) reading the Urdu news on China Radio International's Pakistan service.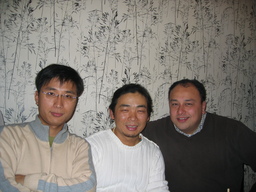 Wang Lei, Lu Jun, and David
I spent a year myself living in Pakistan studying Urdu. Knowing how difficult it is for Chinese nationals to leave China I was curious why somebody from this country would go to Islamabad to study for three years. Back when we were together in Tibet I asked Lu Jun how he chose to study Urdu in Pakistan. He offered nothing more than, "My government sent me," without going into details. I don't think his response was meant to have ominous cloak-and-dagger overtones, but certainly made me speculate just what this guy's story could be. What to make of somebody fluent in English, Urdu, and Chinese, wandering around rural Tibet? Being an international announcer for CRI seems the most plausible, least spooky explanation.