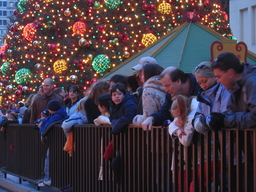 Christmas Crowds
Daley Plaza, Chicago

2005.12.25 Chicago, USA

I'm almost home for Christmas: now I'm at Chicago's Midway airport, about to board a flight to Seattle.

I arrived back in the U.S. a couple days ago. I've been staying at Aunt Kathy's condo in Oak Park, taking things easy, resting, and catching up.

My last few days in China were great. I spent time exploring Shanghai with Zach and Lisa. It'll be good having more friends living in the country, even if those two do move up to Beijing. They've promised to come out and visit Xinjiang this springtime.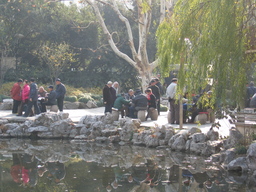 Chinese Chess Players
People's Park, Shanghai

Zach, Lisa, and I went to a Moroccan restaurant and bar in the center of the city. Barbarossa is at the end of a causeway above a pond in Shanghai's People's Park. Barbarossa turned out to be not just a nicely decorated bar and Moroccan restaurant: it was the second place I've found hookahs available since leaving Urumqi. That alone made it worth a second visit before I left--three if you count the time we went there just for lunch.