2005.12.31 Seattle, USA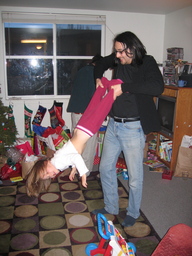 Uncle Ben Plays
with Robin
The past week has been non-stop socialization, catching up with friends and family.
I flew into Seattle on Christmas Day. Brother Ben and his girlfriend Sandra picked me up from the airport, then dropped me off at the family home of another brother, Greg. I spent my initial days staying with Greg, Louise, and their two daughters. Staying with them was convenient for a couple reasons: all of my possessions are stored in their garage, and our family Christmas gathering was to be celebrated at Greg's family's home.
We observed Christmas on December 26. As so many of my siblings are married with families of their own, it's now easier for my immediate family to gather the day after Christmas. The holiday was pleasant: it was good to see all the people closest to me, most of them for the first time in a year. I now have several nieces and nephews. They were excited, tearing open gift after gift. As for me, I was happy to find a honey-glazed ham at the center of Christmas dinner--not a meal I would commonly find around Xinjiang.
Seattle feels comfortable. When I've visited America the past couple winters I felt ready to return to China practically upon arrival. This time it feels like a place I want to linger. I'm making it a point to stay at the homes of various friends and family. Last night I shifted over from Greg and Louise's place to the home of my sister's family. I plan to bounce around different locations, hopefully staying again with Mala and Vega, as well as with Michael, who is back in town after a year traveling around Latin America.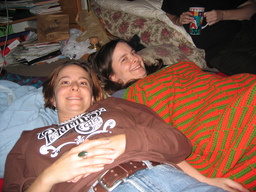 Cloe & Zoe
I haven't been back in Seattle even a week, yet feel that I've already spent so much time being sociable. Christmas night I visited Zoe's apartment. Zoe has been caring for my cat, Mango, over the years I've been away. I probably would have called on her and Mango later over my stay in Seattle, but Zoe's twin sister Cloe was in town, due to leave the next morning.
Cloe and I met back at university, we were both tenants in the same rooming house. After several years working in Japan she moved to Boulder to pursue graduate study; Zoe remains in Seattle, acting, and taking care of Mango.
Cloe, Zoe, Mango, and I caught up over tea and Christmas candy, chatting about life abroad and here in America. Zoe and Mango have bonded over the years she's been taking care of him; she asked if she could adopt him outright. I think it's likely that I will let him become hers. Our previous arrangement was that I paid for cat litter and cat food, with the understanding that I would take Mango back after my time abroad. However, what I thought would be one year living in Kashgar has grown to two years living in Urumqi: it may make more sense to just let Zoe keep the cat.
I would, of course, retain visitation rights.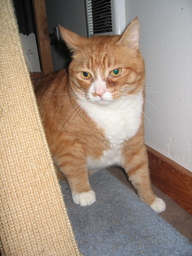 Mango
Yesterday was also spent seeing people, meeting up with friends over meals and snacks. Clarica and I took lunch together at a Vietnamese restaurant off of 14th and Jackson. Despite living in China, there are many kinds of Asian food unavailable where I live. Xinjiang may be more proximate, but Seattle is a far better place to find Vietnamese soup and Hong Kong-style pastries. After finishing our phỏ, we sought out rooster-tail buns, a light bun filled with a sugary coconut-sesame butter. I was happy to find my favorite bakery, Mon Hei, still open in Seattle's Chinatown.
Clarica seems well. She's still working at Linux Journal, recently back from her first trip abroad--a business trip to Nicaragua.
Dinner was spent with former co-worker Hidetada. Again, socialization revolved around food: first a big American meal, then coffee. Since we parted ways in Las Vegas last February, Hidetada has made several return trips down there to relax and gamble. I've always been dubious of anybody who claims to have a system for beating any kind of card game. However, Hidetada is one of the more clever people I know--he definitely knows his blackjack basic strategy and how to count cards. He keeps meticulous records of how much he wagers, wins, and loses. He's currently a couple thousand dollars ahead at the tables.