2006.01.25 Manila, Philippines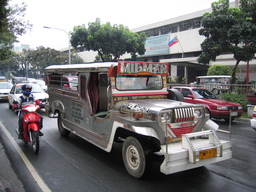 Jeepney

Arriving in Hong Kong was great--Bonnie had a huge pot of homemade chili bubbling away on the stove, waiting just for me.

I stayed at her new flat in Discovery Bay for just one night, this past Monday. She and Matthew have a great place--not as nice or well-furnished as Matthew's company flat was back in Urumqi--but far larger and nicer than most places I've seen around Hong Kong.

The day I arrived in Hong Kong Matthew was away on business, leaving just Bonnie and I to catch up. So much has happened in our respective lives since I last met up with Matthew and Bonnie--we last saw each other this past summer back in Urumqi. At that time I was about to set off on the road to Tibet with Tiffany and Nisagul. While I was traveling, Matthew and Bonnie hosted a huge wedding party. They were legally married earlier in the summer, but decided to have friends and family from around the world come to Xinjiang for the actual wedding.

It was a shame I wasn't able to make it back from Tibet in time to attend the wedding. Being held in the hills of Xinjiang, they decided the ceremony would be in traditional Kazak style: both bride and groom wore the colorful, local wedding costume.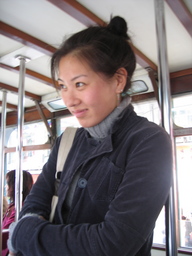 Bonnie rides
Hong Kong tram
On Tuesday Bonnie and I took dim sum in Central, then browsed around a bookstore in Casuseway Bay. I caught an evening flight to Manila, which, so far, has underwhelmed me.
Manila is strange--I can't liken it to anywhere else I've visited. Ordinarily that would be good. When I travel, somewhere I can't categorize means somewhere I will have interesting new experiences. However, this city doesn't seem like a place with a lot to discover. Many of the buildings and streets around Manila are decrepit. On the opposite end, those places which aren't falling apart are largely western chain stores and restaurants. I've seen far more branches of Shakey's Pizza, 7-Eleven, and the California cafe chain Coffee Bean & Tea Leaf here in Manila than I have in cities around the U.S., let alone cities back in China.
The only thing I've seen so far that does seem unique to the Philippines is the Jeepney. I haven't been told the history, but based on appearance, I guess that local Filipinos have continued to make clunky Jeeps based on whatever technology was around when the Americans left. Jeepneys look like a boxy old Jeep from the World War II era, but stretched out to squeeze more passengers in. They serve as public transportation around the islands; the streets of Manila are clogged with them.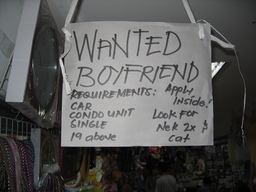 English Language Sign,
Manila Shopping Mall
I didn't expect English to be so pervasive. I did know that the Philippines were a colony of the U.S., but expected to see a lot more Tagalog around. I have been other places where English is the administrative language and commonly spoken. However, those places usually have a local language with equal status, such as Hong Kong (Chinese,) West Bengal (Bengali,) or Urdu, in Pakistan. English dominates here. I do occasionally see an advertisement in Tagalog, but 90% of what's around seems to be English.
I've come to Manila specifically for a family gathering. My father and his brothers grew up here, as well as many of their cousins. Most relatives have left to live other places--including America and Hong Kong--but there are still a lot of connections with the Philippines. My second-cousin Eleanor will be celebrating her 25th wedding anniversary here.
Uncle Philip co-ordinated arrangements for this visit, which has made everything easy. He received me at the aiport, then picked up my father and Uncle David when those two arrived a few hours later. We're all staying at Uncle Philip's brother-in-law's house, which is large and luxurious.
Most of today was spent driving around. The city infrastructure is awful, traffic congestion around Manila is worse than anywhere else I've seen. We spent hours just getting to, then getting around the neighborhood where my father and his brothers grew up.
Spending so much time in the heat and traffic made me feel ill. Thankfully, Uncle Philip treated us to an evening at the spa. Danielli claims to be Manila's first spa, opened ten years ago by an Israeli who started a family here in the Philippines. I had my skin scrubbed with Dead Sea salt, then a full-body oil massage.
I probably go for a massage every week or two in China, but I've never had one as nice as the one at Danielli. Masseuses back in China are talented, but I seldom go for an oil massage or any sort of treatment where I have to remove my clothing: there are just too many sketchy places around. The refreshing treatment at Danielli made me decide that I should find a good place for similar service when I return to Urumqi a few weeks from now. The cost of a good massage is so cheap across China, I may as well splurge, going to a good place more often.