2006.01.27 Manila, Philippines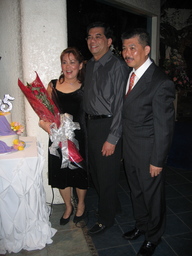 Eleanor, Uncle
Philip, & Nick

I'm staying at the home of my uncle's brother-in-law. It's a luxurious house with several live-in servants, including a chauffeur, a cook, and a maid. My father, uncles, and I have been starting each day at 7:30, sharing breakfast with our hosts.

If the BMW and multiple SUV's in the driveway weren't indication enough, conversation tends toward a predictable theme. Casual references are made to one's golf game, playing tennis, sailing, diving... little cues to reaffirm that everybody is on common ground.

It's been non-stop running around since arrival. We've twice been to the Chinese embassy: my father needs to get a visa for travel after Hong Kong. Again we visited the neighborhood where my father's family grew up. The places he and my uncles enjoy revisiting are simple: we dropped by the elementary school my uncles attended, then got take-out from a branch of the Ma Mon Lok Chinese noodle restaurant.

Last night was the 25th wedding anniversary of one of my father's cousins: Eleanor. She grew up here in the Philippines, but moved to Hong Kong to start a family. At the time she got married she accepted that the wedding would have to be held in Hong Kong, but declared that she still prefered the Philippines--so they would have to hold another wedding ceremony in Manila 25 years later.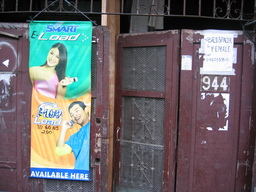 Father's Childhood Home
The ceremony was held in a cute restaurant with European menu: The Blue Bacon & Green Egg. I had a great time: there were so many familiar folks from Hong Kong whom I've met on previous trips there. I also met several relatives who live in the Philippines, mostly cousins of my father. I wished the couple well; I danced with the bride and her daughter, Joyce--a very pleasant evening.
Tomorrow we're off to Tagatay, a resort area a couple hours outside of Manila. I'm not usually one for the fancy getaways, but it should be good to get away from the gritty city and hopefully get some rest.