2006.02.02 Zhuhai, China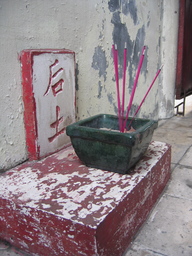 I'm back--if briefly--in China.
Zhuhai is the border town with Macao. I've passed through here a couple times before, but this will be my first time staying overnight.
I've always had a good impression the times I came through before. The streets of Zhuhai are clean, the atmosphere laid-back. Most of the development has been recent, and in-line with how China shapes her cities today. There's quite a nightlife: restaurants serving foreign cuisine have outdoor seating beneath palm trees. I passed a couple restaurants with outdoor music performers, including a woman playing Chinese pop songs on a traditional instrument, the ancient cheng.
People come to Zhuhai from around China for a holiday. The service light atop taxis not only states TAXI, but additionally announces, Zhuhai: the Romantic City. When considering a romantic escape I'm sure Zhuhai has never entered my mind, but I'll concede that it has absorbed some charm, owing to its position on the Macao border.
Macao was a colony of Portugal until about six years ago, Zhuhai finds the occasional Portuguese bakery or cafe around. The weather in Zhuhai is good, the food is fine, and Macao itself is a fifteen-minute walk from where I'm staying.
I'm staying in sort of a random location: somebody-I-don't-know's apartment.
The first few hotels I enquired at had prices three-to-four times what I was hoping to pay. While looking for another hotel I happened by a travel agency, so decided to enquire about onward flights back to Urumqi. The fares quoted didn't seem so great, so I thanked the travel agent and left. As an afterthought I stepped back in and asked the travel agent if she knew of any cheap hotels nearby. She rang somebody she knew with an open place, he came by and brought me to his apartment. 60 yuan was just the figure I was looking for, so now I have use of someone's flat for the night. Perfect.
After "checking in" I browsed on-line fares to get back to Urumqi. It seems that it may cost the same or even less to first fly to Beijing, then get a discount ticket out west. A Beijing spur would be an added bonus: I could visit Joyce again for a few days. On top of that, Lisa is moving from Shanghai up to Beijing on February 11--one day after the day I was considering going there myself. I put them in touch with each other last year, they seem on their way to becoming fast friends. It would be keen to hang out with those two before heading back to frozen Xinjiang.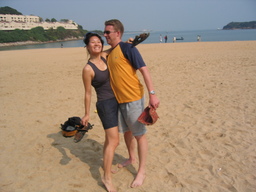 Bonnie & Matthew

My father, uncles, and I all flew from the Philippines back to Hong Kong on January 30. I again stayed in Discovery Bay, this time with both Matthew and Bonnie in town. It was so good to catch up and spend time together. We had dinner at Jaspa's, a local restaurant with good western fare. The next day we played Frisbee on the beach, reliving a bit of our experience in Urumqi.

Yesterday morning I went with my father, uncles, their cousin Eleanor, and her daughter Joyce, to visit our ancestral village in rural China.

The trip got off to a bad start: I got the meeting point wrong. I confused Miramar on Nathan Road with Mirador, two blocks south on the same street. When nobody had shown up ten minutes after the arranged meeting time, I figured I should just hop in a cab to get to the China Ferry Terminal--there were only 35 minutes remaining before sailing time.

I'm seldom so lucky. The likely scenario would have been either that I missed them completely, or--owing to my delay--everybody missed that day's sailing. This time, I saw everybody crossing the street, about to enter the Ferry Terminal, just as the cab pulled up. I made sheepish excuses; we got on the boat.

I plan to go into more detail in a future entry about the way we've been spending our time around the Philippines and rural China. Much of our time is spent with living relatives, but a fair portion involves honoring the dead in a ritualistic way. I've seen the term ancestor worship used for the practices they engage in, though I know they would all label it "paying respects to the ancestors" rather than anything with religious overtones.

Whatever the case, I'm finding it fascinating to engage in ritual burning of incense, burning of hell money, and offerings of food and drink to generations long past. It's really something to see your great-grandfather's grave in a Manila cemetery, or your great grand-father's portrait venerated on the wall of a house in a small, Chinese, village.