Getaway with Bonnie B.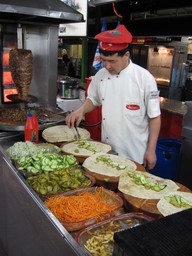 Doner Wraps at
Dastarkhan Market

ALMA-ATA, Kazakhstan
April 28, 2006

I'm back in Kazakhstan, taking another brief holiday. Coming to Alma-Ata is an easy vacation from Urumqi. There's a Kazakhstan consulate in Urumqi, getting a visa is straightforward. There are trains twice a week, and a bus running directly between the cities six nights a week. It takes a little over a day to get between the two.

Arriving in Alma-Ata feels very much like being in eastern Europe and not at all like being in a Chinese city. The streets are not as congested with either people or traffic, most roads are lined with trees.

I've come this time not only because it's the weeklong Mayday holiday back in China, but because a friend has come to visit. Bonnie B. was a coworker of mine at my last job in Seattle. We've both moved onto different directions, but have maintained contact. She's taken two weeks off from her present job to come see me and to visit Central Asia. We should take a train back to Urumqi together within a few days.

We had initially planned to head up to north-eastern Kazakhstan, visiting the cities of Oskemen and Semey, then crossing back into China via the mountainous region of Altay. Altay is shared by four countries: China, Kazakhstan, Mongolia, and Russia. Aside from being a unique confluence of borders, Altay is said to be a beautiful area of pristine forests, mountains, and lakes. I'm also attracted for the mere reason that languages including Uighur, Kazakh, and Mongolian are lumped into a "Turko-Altaic" language family.

However, we're not going to be able to travel that route this trip. When crossing from China into Kazakhstan yesterday afternoon, the border guard asked me what I first took to be a routine question: when do you intend to return to China? It turned out that the Chinese authorities have decided to close all the road borders between Xinjiang and Kazakhstan for the first two weeks of May, my bus was one of the last to make it through the crossing. This is all in the name of the Mayday holiday, a reason I find implausible, though not surprising, given the lack of rationale with which things are decided in China.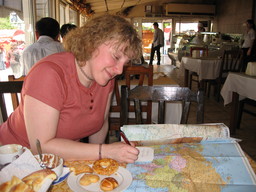 Bonnie B., pastries, and
a map of Central Asia

So, we'll have to take a train or plane back. It no longer makes sense to head to northeastern Kazakhstan if we can't cross directly into the Chinese-held area of Altay. We've been brainstorming alternate travel plans. I threw out every random idea that would be feasible; I was surprised that the one Bonnie was most attracted to was getting visas for Uzbekistan and taking a train to Tashkent, even if it meant skipping time anywhere in Xinjiang or elsewhere in China. I've been longing to go to Uzbekistan for years, but know that even two weeks won't be enough time for me. I would also probably miss some class and have the additional expense of a plane ticket back to Urumqi, or another Kazakhstan visa to take the train back home. Bonnie kept on trying to convince me that we should go; I agreed that we could at least find out information about how long it would take to get a visa issued from a travel agency or embassy.

We found that getting an Uzbekistan visa in Alma-Ata is a slow, expensive process. The flat rate for U.S. citizens is $100 U.S., for service between 10 and 14 days. We could pay double that to "expedite" the visa, but still would be stuck here another four business days--a full week, as Monday is a holiday. In a sense I was relieved that it couldn't come together, I wouldn't have felt right passing up a trip to a country I've long wanted to visit.

So, we'll likely return to Xinjiang earlier and more directly than we had planned on doing. We may try to take time in other parts of Kazakhstan outside of cosmopolitan Alma Ata. Perhaps we'll take a side-trip to somewhere not so developed or Russian in flavor. I did have the chance to explore places around Kazakhstan last year; it would be good if Bonnie could also get a greater impression of what it's like out here.