Dining Out: Caspian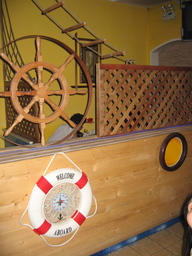 Caspian Café

URUMQI, China
May 30, 2006

Quick quiz:
Which five countries border the Caspian Sea?
Does Xinjiang border on the Caspian Sea?
Answers are at the bottom of the page.
As near as I can tell, there is only one place in Urumqi named Caspian. It isn't a sea--rather, Caspian is one of the many restaurants along Urumqi's Yan'An Road which cater to traders from formerly Soviet Central Asian states.
Run by Gyulaga, a jovial Azeri lady, Caspian is actually two separate restaurants. Lower prices, backgammon, and hookahs are to be found on the ground floor café; dim lights, crushed-velvet, live music, and the wine list reside on the second storey.
I seldom decide that making the trip to the upstairs restaurant is worth the additional expense. While the seating is somewhat more spacious, the main reason for higher menu prices is a central dance floor with musicians performing nightly. Depending on what you've come for, live covers of Russian pop-songs either detract from or define the ambience. A selection of Georgian wines can offset higher prices and loud music; I find myself more often eating at the ground-level Caspian Café.
Downstairs, the Caspian Café pays homage to its namesake through a nautical theme. Life preservers and mounted fish adorn the walls. An entire section of the restaurant has been built into a boat, replete with rigging, crow's nest, portholes, and a helm. Several tables are "on-deck," perhaps an attraction for families with young children.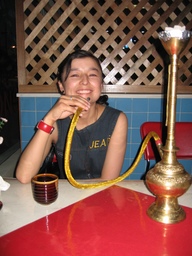 Shamsiya Samples a
Hookah at Caspian

The café menu is a pared-down version of the restaurant menu upstairs, though the selection is ample and prices cheaper. Neither location has an English-language menu, both versions have only Russian and Chinese scripts. The café does have a color-picture cheat-sheet available.

The menu at both restaurants finds standard Central-Asian fare available anywhere in Xinjiang, e.g. polo (rice pilaf) and kebabs. What will attract the Urumqi local to Caspian is the menu of dishes from Turkey and Azerbaijan. Few places in Urumqi carry doner kebap, meat slow-roasted on a spit. ¥15 will fetch a doner-wrap with meat, fresh onions, and tomatoes swaddled together inside a tortilla. The doner-wrap goes especially well with a cup of the Caspian's sour yoghurt, though it's even better to spend that extra ¥3 upgrading to the doner platter. The doner platter offers more meat, a generous portion of polo, and tortilla strips, all served alongside an assortment of fresh vegetables.

Westerners craving cheese will appreciate Caspian's status as one of the few locations around Urumqi where proper helpings of the gooey stuff are served. Menu items include a Cheese Bread at ¥20 and a Turkish Pizza for ¥19. Both are delicious. The picture menu at the café also depicts what would appear to be a Greek-style pizza with olives and feta cheese, though I've for some reason always been dissuaded from ordering it by the waitresses.

Blinis are on the menu, but at ¥10 are a poor value. Several kettles of soup are prepared for lunch hour, the selection varies from day-to-day. The best of the soups-of-the-day is a borscht which has lamb meatballs with mint leaves cut in. Hookahs are available at a reasonable ¥35, the tobacco is imported from Turkey. Caspian carries a small offering of different varieties of fruit-flavored tobacco.

The upstairs restaurant can be a happening place for a night out, though the café downstairs is seldom crowded at any hour. Occasionally, the café will see impromptu backgammon games and hookah-smokers, lending a touch of Middle Eastern atmosphere to Chinese Central Asia.

Caspian

RATING: ★★½

LOCATION: No. 46 Yan'An Road, Urumqi; +86 (991) 255-1992

TRANSPORTATION: Urumqi city buses 16, 63, 106, and 912 all stop nearby. Get off at the Silk Road Hotel bus stop.

AMBIENCE: Maritime below, Velvet Russian Disco above

SERVICE: Competent staff of Uighur waitresses, menus in Chinese and Russian

PRICE: ($1 U.S. = ¥8) Yoghurt ¥3, Cheese Bread ¥20, Hookah ¥35

RECOMMENDED DISHES: Mint-meatball borscht, Turkish Pizza, Cheese Bread, Doner Platter

WINE LIST: Dine at the restaurant upstairs to see what's on the list of Georgian wines

BEST TABLE: Any of the booths between the windows and the boat

DETAILS: Open daily from 11:00 A.M. to 1:00 A.M., Beijing time. Will deliver in immediate area, though this means only places within Urumqi's Russian ghetto.

Rating is based on food, service and ambience, with price taken into account in relation to quality.
| | |
| --- | --- |
| ★★★★ | Super-Yum! |
| ★★★ | Grubbin'! |
| ★★ | Muncha-Muncha |
| ★ | Just So-so |
| No star: | Icky-poo... |
Answers:
Kazakhstan, Turkmenistan, Iran, Azerbaijan, and Russia all border the Caspian Sea.
No, Xinjiang does not border the Caspian Sea