Naadam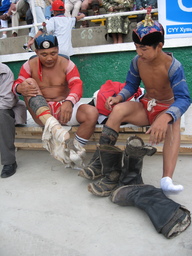 Preaparing to Wrestle

ULAAN BAATAR, Mongolia
July 13, 2006

The second day of Naadam has just finished.

Naadam is the biggest national festival in Mongolia, a three-day holiday. Events are centered around traditional sports: horse racing, wrestling, and archery. Somehow Meenday and I managed to get tickets to the opening ceremony and all three days of sporting events.

I can't follow the finer points of the action, but it's fun to be here over this time, especially being in the thick of where everything is happening. People are in good spirits and make a point to dress up. The opening ceremony was grandiose, with thousands of people performing in traditional Mongolian costume. There were lots of horses and even more weaponry about: helmets and shields; bows and arrows. 2006 is the 800th anniversary of the founding of the Mongolian state by Genghis Khan, so there's been a lot of focus around the Great Khan. One of the highlights of the opening ceremony was a Genghis Khan impostor arriving by chariot.

The second day of events was dominated by horse racing. The finish line saw absolute pandemonium when the horses came in. Police and security couldn't hold onlookers back. A local custom compounding the madness is to wipe sweat from a winning horse about a person's forehead. Even on a galloping horse, the jockeys--young boys, mostly--had a difficult time navigating away from the crowds. Despite charging this way and that, they additionally had to thrash the handle of their whip from side to side in order to bat people away.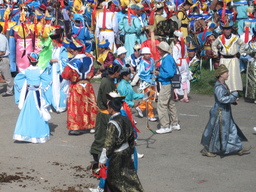 Opening Ceremony

We've been shuttled around town by contacts of Meenday's. Not only is it convenient to have locals show us around, it's been good to connect with Mongolians and start to get a sense of their personality. My initial impression is that Mongolians must be one of the most laid-back peoples on the planet. Even without a shared language in which to communicate, I find interaction relaxed and comfortable. Boldra is the younger sister of one of Meenday's friends in western Mongolia. She's been arranging our rides around town and helping us with day-to-day errands. I noticed upon meeting her a trait she shares with most of the other Mongolians I've met yet far: no need to establish common ground before becoming friends.

Without more than a "hello" or the typical establishment of whose background is what, Boldra--like others here--seems to be comfortable hanging out closely as friends. My sense is that so many other parts of the world people need to first define how they relate and with whom they're interacting. There needs to be at least a little minimal conversation, perhaps asking what you do, or whether this is the first time visiting their country. Here, nobody seems to need to make chit-chat to be comfortable laughing and going out together for hours on end.

I've been happy to find that the traditional Mongolian script is far from dead here. Cyrillic does dominate, but I've found decent calligraphy for sale in the old, vertical script. I've gone and bought more than I know how to properly tranport onwards, but suppose I can't really complain about having too much calligraphy.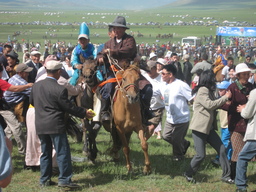 Finish Line

Joyce came up from Beijing a day after Meenday and I arrived. She's still writing travel articles for the Chinese magazine World Vision so is getting this trip paid for. She may well come along with Meenday and me when we make our way west. This would be a good thing, as Joyce is a smooth talker and I, in theory, shouldn't be allowed to cross the border between Xinjiang and western Mongolia.

There are several border crossings open, but they are strictly open to "local traffic". It's necessary to have a passport from either Mongolia or China in order to cross, the border guards should turn me away when I arrive. However, having Joyce along should help grease the wheels. Additionally, both Joyce and Meenday have credentials as journalists in China (Joyce for World Vision, Meenday for Xinjiang Public Broadcasting) which might carry some clout.

Finally, all three of us now have bona fide press credentials issued by the Mongolian Ministry of Foreign Affairs. After Joyce pulled into town we spent the day running around various government offices, flashing cover letters and business cards, filling out forms, and making copies of our vital information. (I am evidently a cameraman, Meenday a translator.)

The result of our efforts was three press passes with expirations in mid-August. I may yet get turned away, but I'm betting that with all these official papers and a couple of local travel companions, I'm going to make it across that border.