Journalist?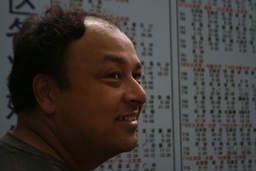 Railway Schedule

BEIJING, China
August 13, 2006

I've changed direction completely. Upon arrival in Bayan-Olgii I weighed my options. I had previously been considering only between crossing directly into Xinjiang via Kyzyl-Tau or flying to Oskemen in Eastern Kazakhstan. After a few days mulling it over I realized there was a more roundabout, but better option: fly to Ulaan-Baatar, then take a train to Beijing.

Choosing this alternate route meant backtracking and a detour of thousands of miles. Calculating it out, I reasoned that route would be cheapest option in the long run. I was pretty sure the Kyzyl-Tau crossing would be problematic--I might not be let through. The cost of a flight to Oskemen and bus onto Urumqi would be about the same as a flight to Ulaan Baatar and train to Beijing. After leaving Mongolia I had paperwork to attend to in the capital, so coming directly to Beijing has saved me the cost of an additional leg.

So, I've spent this past week in Beijing. I'm staying at Zach and Lisa's apartment in Sihui. Lisa has been away the entire time, but she's due back in town today. Most of my time in town has been spent hanging out with Zach, but I've been social, visiting with several friends out here. I've met up with Joyce, Shahnaz, and Lu Jun over various days.
Joyce introduced me to the editors of World Vision magazine. Our initial meeting was at a cozy teahouse, tonight they're taking me out for Peking duck at the original Quanjude restaurant in Beijing's hutongs. They indeed do want me to write a piece on Mongolia for an upcoming issue. Shared meals and drinks are all part of the process of building relationships in China. I certainly don't mind being taken nice places, but know it's not a one-way street--I am expected to deliver an article.

Shahnaz proudly shared her new hookah with me--a plain, but functional little pipe. Hanging out at her flat for an afternoon was one of the more multi-lingual encounters I've experienced. She's a native Uighur speaker, educated in Chinese, highly proficient in English. She's spent the past months studying at the local Alliance Francaise, hoping to study in Paris before the end of the year.

Our conversation fell into all four languages at various points. I've never had much more than a traveler's level of conversational French, but found it's a far easier language for me to attempt as a native English speaker than it is for Shahnaz. She's been studying for the past year, I took one quarter seventeen years ago. I was secretly pleased to find our levels approximately par. I've always envied people who grow up fluent in several tongues, this was the first time I've found any advantage with languages.

Lu Jun introduced his wife Jen, the three of us spent a pleasant evening together having dinner at a Xinjiang restaurant, followed by coffee in the Hou Hai district. Lu Jun is still traveling as much as possible, on his way back to Tibet at the end of this month, in fact. Jen works as director of domestic news for China Radio International. She asked me--I don't believe with any seriousness--if I wanted a job, translating or announcing for their English language service. It was just an off-hand comment, I'm sure there isn't any particular position available. Still, combined with the recent wining and dining from World Vision it got me to thinking if I shouldn't have gone into journalism.
I've had a difficult time getting a ticket back to Urumqi. There aren't any discounts available for air tickets, a one-way flight would be nearly $300 U.S.. I've made several trips to various railway stations and booking offices around town, though the best I've managed to come up with has been a hard-seat ticket as far as Xi'an.
I didn't want to waste money on a flight, so bought the hard-seat ticket. I leave tonight on what I know will be an uncomfortable journey. There are several lines to Urumqi which go through Xi'an, only one from Beijing. I'm hoping that I have a better chance of getting a ticket to Urumqi from Xi'an, though reckon there's a fair chance I'll get stuck there as well, unable to move on for several days.