Hard Seat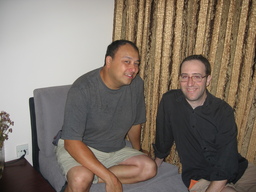 At Zach's Flat

JIAYUGUAN, China
August 15, 2006

I'm still making my way back to Urumqi. This must be the worst time of the year to buy train tickets. I've met other travellers who have shared similar accounts of being unable to buy the ticket they want.

The first leg of the trip wasn't too bad. I left Beijing the night of the 13th, my ticket to Xi'an turned out to be for the T27, the new line that runs to Lhasa.

The train was brand new, even hard-seat class was relatively comfortable. Seats were well padded, all placards were written in Chinese, Tibetan, and English. Aside from the usual scrolling readerboard text announcing the next station and speed of the train, every so often the altitude would be announced. Underneath each seat was an oxygen mask to alleviate altitude sickness. This is the way I fantasized about traveling while stuck on a broken-down bus leaving Lhasa last autumn.

Before departure I wasn't sure which route the train would take after Xi'an. When I found that Lanzhou would be the next stop, I decided to stay aboard. Lanzhou is farther west and a stop on even more railway lines to Urumqi than Xi'an, so I figured that would be a better point to get off at.

After arrival in Lanzhou, I was told the same story: no tickets for Urumqi. I inquired about tickets for tomorrow, the next day, and even the day after that. Nothing available. Just before leaving the ticket window, the name of a city I had come through six weeks prior came into my head: Jiayuguan. I knew that it was farther west and a good transfer point--the line to Hohhot originates there. Recalling that the station had relatively civil and orderly ticket lines, I enquired about a ticket to Jiayuguan.

The only ticket available was for the worst possible trip. The train would be a local run, stopping at every station. While I had a ticket to board the train, all the seats were sold-out. I knew it would be a long, uncomfortable journey, but decided to go anyway. I just wanted to keep moving closer to home.

Traveling on the lowest class of Chinese train (hard seat) is excruciating enough, but it's especially bad on a local run with no seat. People pack into the aisleways and the ends of the carriages. Because others need to pass and vendors need to push the occasional cart through, it's not possible to sit anywhere.

I was fortunate, after crunching into the aisleway for a couple hours, three men with seats allowed me to squeeze into the edge of their row. We'd been talking for some time when they introduced me to one of their traveling companions as being from Xinjiang. I hadn't mentioned where I lived or where I was hoping to go, so I realized that they had mistaken me for Uighur. I hadn't expected people from outside of Xinjiang to make that presumption. Even here in Gansu, the next province over, I would have presumed people would recognize me as a foreigner.

There is one good thing about travelling without a seat in the hard-seat compartment of a Chinese train: meeting people. Having so many folks crammed in together makes for more connections and conversation. Once people realized I was a foreigner, I spoke quite a bit. Among the people I met was an English teacher who could not understand me, no matter how slowly and simply I constructed my sentences. (Not uncommon among English teachers in rural China.) I was offered lots of bai jiu, strong Chinese liquor which I normally can't stand. Given the circumstances, I figured drinking a few shots was not just the polite thing to do, but the best way to deal with being in a an over-crowded train compartment with half a seat.

After several hours a berth became available,. I upgraded my ticket, bid adieu to my new friends, and slept like a baby for the next seven hours.

I'm currently in the middle of a ten-hour layover in Jiayuguan. I'd rather not have to wait so long, but had no choice. The next train (again hard seat unreserved) will leave ten hours after I arrived. I have been making the most of my time here. Jiayuguan is something of a sleepy city, but clean and the locals seem friendly. I found a bathhouse which charged 2 yuan ($0.25 U.S.) for a hot shower. Admission included use of a large heated pool and body scrub on a massage table.

I took lunch at a small restaurant between the city and the railway station, the Beijing Dumpling House. I was surprised to see they served donkey meat (not halal) as a filling. The dumplings were cheap and tasty, I split my order between seafood and donkey, washing them all down with a cold beer.

After lunch I set out in search of a place to get a foot wash and body massage. I was a bit wary of the offerings at the "hair salon" which included massage and foot washes. Massage parlors are common and inexpensive around China, though many of them are just fronts for brothels. I've grown better at detecting and avoiding the sleazy places.

Though suspicious, I wound up getting a fairly decent foot wash and rub. The masseuse spent most of the time expertly using a scalpel to scrape dead skin and calluses from my feet, a bonus I hadn't expected. All the same, I knew what sort of other services were available when, while washing my feet, the masseuse looked up and asked me: "Isn't that girl over there beautiful? Do you want to spend some time relaxing with her?"

So, now I'm off to find dinner and, time permitting, a good place for that body massage. I'm contemplating a return to Jiayuguan before long. It is right on the railway line to Urumqi, I learned today that the Western reaches of the Great Wall of China end here.