Back to Burma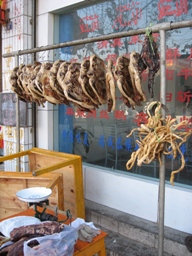 Air-dried meat for
sale, Bao Shan

BAOSHAN, China
January 23, 2007

I'm on my way to Myanmar.

The first leg was a flight from Beijing to Kunming on the 21st. Kunming is the largest city near China's border with Myanmar and the point from where the old Burma Road, built during WWII, begins. I actually hoped to take a train to Kunming from Beijing but, after enquiring several places, couldn't come by a rail ticket. Flying did afford me two extra days to spend calling on friends around Beijing, but I wasn't so happy to go by air. The fare was nearly double that of the train, and I really wanted to make the entire trip by land.

I stayed only one night in Kunming, at the Camelia Hotel. That was a throwback to a previous trip: the Camelia is the same hotel I stayed the one other time I've visited Kunming, back in 1995. Both then and now it's held a reputation as one of the most backpacker-friendly places in the city. It has both a building of standard hotel rooms and a separate annex which serves as a youth hostel with cozy, clean, shared dormitories.

To be honest, nothing about the Camelia felt familiar, but--now that I think about it--the rooms were extremely cheap during my first stay because the entire hotel was being renovated that summer. Perhaps I wouldn't have found anything familiar even if was the exact same building: that was a good twelve years ago.

On that trip in 1995 I made my way along the Chinese stretch of the Burma Road: out from Kunming to the old city of Dali, then finally to Ruili--the border town on the Chinese side of the Myanmar/China line. At that time it was easy enough to walk up to and through the border crossing, the Myannar side literally had no more than a shack with a couple of officials with lots of time to kill. The border guards agreed to let me explore for a day if I let them keep my passport while on the other side and left $10 U.S. with them.

So, my time visiting the country up until now has been one day poking around Muse, the town just within Myanmar. I remember being so curious to see what lay further down the road. The Myanmar side felt like a very different world, far removed from China. Everything I saw was new to me. Most women had some sort of yellow cream daubed in patterns about their cheeks, or covering their entire face. Men wore not pants, but checkered sheets wrapped around their legs. I looked at a world map I had in my knapsack and reckoned that Calcutta was about four-times closer than Beijing.

I later learned that the yellow face cream was called thanaka, used as makeup and sunscreen by women across the coutry. The sheets were longyis. I asked a border guard what lay on the road beyond Muse, he listed off names of cities, most of which I had never heard. I think the only one I recognized at the time was Mandalay, which he gave as the last destination on that road. I recall him saying the next stop was "Lashio", a city I had never heard of. It sounded like the most exotic town on the planet to me at the time. I'm certain much of the appeal was in the forbidden, being proximate to a land I couldn't travel to: I shouldn't have been allowed even into Muse without a visa. I so wanted to continue on, seeing what Lashio and Mandalay could be like. For twelve years I've wanted to complete that journey, making a proper trip into and around Myanmar.

The first thing I did in Kunming yesterday morning was to apply for a visa at the Myanmar consulate. I decided it was worth it to pay an extra 100 yuan for same-day visa processing service. I already booked a flight out of the country--from Yangon to Bangkok--scheduled for February 14. An expedited visa will allow me a couple more days to explore Myanmar. That very afternoon I picked my passport up, then hopped on a bus to Dali, an old city about half the distance down the Burma Road to the border.

I stayed for just one night in Dali and decided to splurge, paying some 60 yuan for a clean, private room in the new part of the city.

I'm presently in Bao Shan, a small city farther on from Dali.. The bus I'm taking to the border city of Ruili is stopping for lunch. After a quick bowl of noodle soup I picked up some supplies for the road further on: a few oranges and a huge hunk of air-dried beef. I don't know what the transportation will be like or what will be available once I enter Myanmar, so I figure a big block of beef jerky won't be a bad thing to heft around in my backpack.

So far along the road has been nice: a well-paved highway. I'm wondering why this isn't one of those roads that travelers rave on about, such as the Karakoram Highway connecting Pakistan and China or the road between Lhasa and Kathmandu. I guess the peaks aren't as high out here, but the scenery is beautiful, winding around mountains, over bridges, and through several tunnels.

Trivia: Until 1988 Myanmar was known as Burma, a name given to the country by the British, who ruled the land until 1948.