Springtime Holidays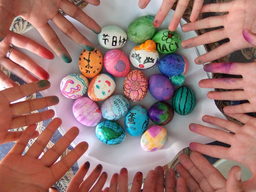 URUMQI, China
April 12, 2007

At the beginning of the month Tiffany moved house. She is now sharing a large apartment with a couple fellow foreign students from our Chinese class at Xinjiang University. Her new roommates are Logan, from the U.S., and Nurmira, here from Kyrgyzstan. This past Sunday was Easter, to celebrate they hosted a pancake brunch and egg painting.

The three of them cooked up a traditional American breakfast menu that would typically be hard to find somewhere so far from the U.S.: coffee, flapjacks with jam and maple syrup, two elaborate scrambled egg dishes, and bottomless hash browns. Big American breakfasts like that one are one of my favorite meals, leading me to wonder why I've never thrown anything like that together while out here. With the exception of the maple syrup, none of those ingredients are difficult to come by, even here in China.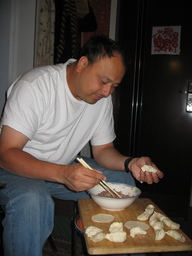 Making dumplings

I actually have been cooking more of late. Perversely, I attribute that to laziness. Before this semester began my default routine would be to eat out for most meals, going somewhere yummy with friends more often than not. This term I am not only attending 24 hours of class every week but am also being a good boy: preparing for class ahead of time, doing my homework. These days I'm simply too tired to leave the apartment once I come back from class. I don't usually cook anything elaborate: most often I just boil up a quick pot of pho. Somtimes it's a couple-dozen dumplings, to take with chili sauce and vinegar. What I find truly backwards is that buying the ingredients, even for simple meals such as these, costs more than what I would pay to eat similar fare in a restaurant. Eating out is cheap in Urumqi, I'm just too tired to go and do it.

Mayday is coming up, which is recognized as a weeklong holiday across China. China has a few holidays which are extended into one full week, I usually travel over those periods. This year, several friends are planning on taking the train to Alma-Ata. Tiffany and Logan are definitely making that trip. Most likely so will Gwen, an archaelogist who has been doing research around China this year. Joining in would be a lot of fun: the train is slow, taking a little over a day between Urumqi and Alma-Ata. It's a comfortable journey by rail, each second-class compartment has four berths--it would be simple for the four of us to take an entire compartment over. Alma-Ata itself is a pleasant city, and makes for the perfect getaway. The atmosphere feels like Eastern Europe, being in Alma-Ata feels like being in a place far from China.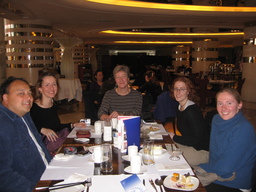 David, Astrid, Gwen,
Tiffany, and Logan
I've also toyed with the idea of going by road back down to Pakistan. Pakistan as well is a nearby getaway from this corner of China; it would be a beautiful time of year to pass through those mountain ranges. While passing through Beijing last month I picked up the Pakistan visa application form, just last week I called the embassy back for information about applying for the visa from out here Urumqi.
But... I'm still up in the air over what to do. Both trips sound great, but in all likelihood, I won't make either of them this holiday. I haven't outright dismissed either plan, but, hesitating on the visa applications might make that decision for me. Perhaps I should consider a closer trip, maybe down south to Hotan, or up north to Altai, getting out to see some corner of Xinjiang I've not yet visited. At this moment though, chilling in Urumqi for the week, doing a lot of nothing and eating dishes other than pho and dumplings sounds better than some exotic roadtrip. We'll see just where I wind up the first week of May.