Up the KKH II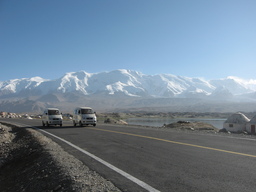 Cargo bound for Tajikistan

HOTAN, China
August 02, 2007

Meenday met me in Tashkorgan. We're taking a couple weeks to work our way back up to Urumqi together, stopping off several points around Xinjiang neither of us have visited.

Heading north from Tashkorgan our first stop was Karakul: the Black Lake. Karakul is a pleasant patch of water surrounded by snow-capped mountains: the scenery alone makes it a point worth stopping at on the road up to Kashgar. Even more interesting than the views are the locals who live around the lake: almost all nomadic Kyrgyz who are still living a subsistence existence.

Meenday and I broke our journey for a night, staying with a family in their yurt. When we were deciding where to stay I at first was put off by the fact that our accomodations would be in a cement perma-yurt, not one of the traditional felt yurt alongside. Then I thought about it: I've stayed in felt yurts other parts of Xinjiang and Mongolia. This was the family's actual home--they themselves were not staying in a felt yurt. The amount they were asking for accomodation and meals was ridiculously low, it was clear that they could use the money. We decided to stay in the permayurt.
The two of us rode horses around the lake that evening. I realized that this made for the third consecutive July I've taken a trip on horseback. I'm still not much of a rider. Try as I might to drive it, my horse would generally shuffle along, sometimes stoping entirely. Meenday had no such problems, her horse happily turning, stopping, and trotting as she commanded.
Saturday morning we left Karakul, looking for a ride up to Kashgar. We found that the northbound traffic was light, but in less than an hour at least a hundred vehicles passed us heading south. They were all identical models of minivan, most stuffed with piles of blankets. One of the lake residents explained to us that both the vans and goods inside were bound for sale in Tajikistan: the border a half-hour drive from the lake. Most stretches of that road, the Karakorum Highway, follow the same routes used since the days when travelers were mainly traders bringing silk and other exotic goods from east to west. Commerce continues on along the Silk Road, it's just the merchandise that has changed.
We managed a lift in a jeep up to Kashgar, where we spent a few days relaxing. It was Meenday's first trip to Kashgar so she was curious to explore. However, having grown up in Xinjiang, the things that westerners would find exotic about Kashgar were to Meenday familiar and unexciting. The Sunday Market has been sterilized and cleaned up in recent years, even so there's a great amount of bustle and variety of local goods: caps, herbs, knives. Even though the animal bazaar has been moved across town and everything is much more orderly, I'm still taken by the atmosphere. We didn't linger long--despite it being her first visit, Meenday aptly noted that much of what was on offer at the Kashgar Sunday Market was also available at the Er Dao Qiao area of Urumqi.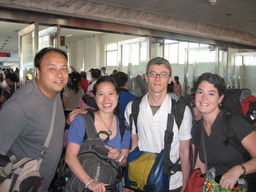 David, Cindy, Rian, & Laura

The past few days I've managed to connect with some familiar faces, all Americans I've met studying in Xinjiang. Rian and Laura, who lived in Urumqi over 2004 and 2005, are back for several months. They're both Ph.D students in Boston, Rian is spending time around Xinjiang researching old Muslim shrines and related traditions. In Kashgar I spent time with Cindy, a graduate student in California, I got to know her as a classmate up at Xinjiang University last semester.

Cindy managed to enroll at Kashgar Teacher's College, the school I had hoped to study at before coming out to Xinjiang in 2003. In some ways I look at the cities I'm passing through here in Southern Xinjiang: Kashgar, Yarkent, Hotan--and wish that I had managed to enroll in Kashgar and had my experience in this much more heavily Uighur area (the population of Urumqi is somewhere between 80 and 90% Han Chinese). If I had been down here my Uighur language skills would have been much stronger and I'd have experienced life in a much more traditional setting.

Then I think about how much I like the city of Urumqi itself, and how even three days in a small city like Kashgar make me feel restless. I know that I would have felt burnt-out and stayed a much shorter time--probably just one year--in Kashgar. I've lived over three-and-a-half years in Urumqi and am yet reluctant to leave.

After a night re-connecting with Rian and Laura in Yarkent, Meenday and I have made our way to Hotan. Hotan is another of the ancient Silk Road desert cities that lives on today. The population is still a strong majority Uighur, Hotan has its own dialect. I'd long heard people up in Urumqi joke about how "funny" Uighur-speakers from Hotan sound. "They have funny intonation: all their sentences sound like questions. They have weird pronunciation: they slur their 'r' the way English speakers do..."

I expected not to be able to understand anything at all, but it all seems pretty similar to me. I can communicate fully. It's fun to be in a place where the default language is Uighur. Nine encounters out of ten on the streets of Urumqi I'll end up speaking Chinese.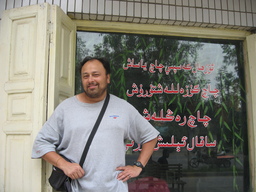 Before

One thing that keeps me from speaking more is traveling with Meenday. Not only is she fluent in Mongolian and Mandarin, I've found that her Uighur is better than mine. (We'd never spoken in that language with each other.) I avoid a lot of the routine encounters I would normally have as a traveler: it's far better to do things as a local. Despite that there are less and less restrictions from Beijing, many hotels across China still refuse to accept foreigners. The ones that do accept foreigners will give cheaper room rates to locals, no matter how good of a bargainer you may be.

Our standard routine when we arrive in a new city is for me to wait on the street while Meenday asks around and checks rooms out. We've managed to stay some nice places very cheaply, places where I otherwise wouldn't even be allowed in.

To keep up the subterfuge I went to a barber this afternoon for a shave. I had let my facial hair grow since the week before leaving for Pakistan. I think that my scrappy beard really did help me blend in there. However, most Uighur men around Xinjiang don't sport beards: just bushy mustaches. Kids around Hotan are shouting out, "Hello!" on the street, people recognize me as a foreigner--something which has never happened in my years in Xinjiang.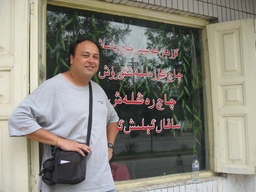 After

Getting a shave with a straight-edged razor is still cheap and common in this part of the world. I paid four yuan, about $0.50 USD for the works. Hopefuly this will help me blend back in. From here Meenday and I are hoping to head up to Bayan-Bulak--an area of pasturelands near her hometown which is still mostly populated by Mongolians living a nomadic lifestyle.

Travel to Bayan-Bulak is restricted. Foreigners have to go through complicated bureacracy to get permission to go there, I don't know anybody who has actually managed to get a permit issued. I've heard rumors of bounties being paid to locals who report foreigners to the local police. The police then fine the foreigner for being in a restricted area, the local gets 500 yuan ($65 USD) for playing the rat.

I don't know if these rumors are true, but figure it will be best to look inconspicuous. The best will be having a local--Meenday--along. I'm also hoping that shaving, looking Uighur again, will let me travel around without attracting the wrong kind of attention.