Journey to the West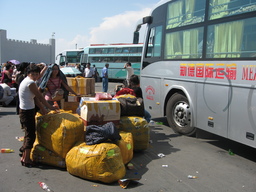 China/Kazakhstan Border
Crossing at Khorgos

ALMA-ATA, Kazakhstan
September 06, 2007

I made it across the border from Xinjiang into Kazakhstan with minimal hassle. I predicted in my last entry that I would meet some kind of delay at the border: my China visa had expired four days prior. I was certain that whichever border guard inspected my passport would act somewhat alarmed at my expired visa but not himself have the authority to waive me through. I figured I'd be shown into some back room to speak with a higher official, then be fined for the extra days spent in China beyond my visa expiry date. I would then negotiate the fine down to a reasonable amount.

In the end, the only part which actually happened was the immigration official acting alarmed: "Your China visa has a problem!", he declared. I was ready for that reaction and brought out supporting papers, ready to argue that the delay was truly not my fault. The border guard wasn't about to look at them: he immediately called a superior officer over to make the decision. She didn't look at my papers either. Just hearing him relate my situation she told the border guard that it was, "No big thing," and I could be stamped out without further ado. No fine, no waiting, no further expense. That essentially meant four free days in China to wrap things up: say goodbyes, ship parcels home, and have a less chaotic departure.

I'm in Alma-Ata now, been here for three days. Rian and I took the bus directly from Urumqi. Both of us have found prices to be steadily unaffordable with each visit to this city. We're presently sharing a double-room at a bus station hotel. In other parts of Central Asia, Kazakhstan included, this sort of room would go for about $5 USD. Instead, we're splitting $30 per night. We're planning on shifting over to a slightly cheaper hotel at the railway station tomorrow morning, not so much for the cost savings as for the proximity to central Alma-Ata. We're presently at the Sairan bus station, way out in the western suburbs.

As planned, I have been gorging myself on cheese, dark beer, and crouton snacks. There is a Russian brand of croutons, кириешки, which comes in small foil packets, much as potato chips would come in throughout North America. Black bread is diced into bite-sized cubes and dusted with salty flavoring of choice: cheese, caviar, bacon, dill. The taste is subtle and thoroughly delicious.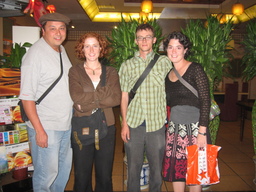 David, Tiffany, Rian & Laura

Expensive city that it is, I'm lingering in Alma-Ata only to take care of business. I've been running around embassies to get visas for onward travel. I'll be staying on in Alma-Ata at least until Monday, September 10. I've applied for an Uzbekistan visa which, with lots of luck (and added expense to expedite delivery), could be ready next week. Applying for visas in much of what was the Soviet Union is a dodgy prospect, at best. "Letters of Invitation" are demanded to issue visas, these are essentially kickbacks between $50-$100 USD to a travel agency with government connections. Rian and I both applied for a visa without the requested letter-of-invitation. Without it we could easily be denied, then have to waste even more time in this expensive city, paying a fee for the invitation letter and re-submitting the visa application. I'm hopeful that I'll have luck as good as I had crossing the China border: documents out-of-order, but they let me through, anyway.

I'm hoping to minimize my time here--I have been to Kazakhstan several times before, but never visited Uzbekistan. By all accounts Uzbekistan will have far more of what I find interesting: turquoise-tiled Islamic architecture, Islamic calligraphy, and a language much closer to Uighur than what they speak here in Kazakhstan. I'm excited: there are several countries on my planned route which I've long dreamt of visiting. If I make it through just a couple of the countries on my planned route, this will be an amazing trip.