Chicken Liver Sandwich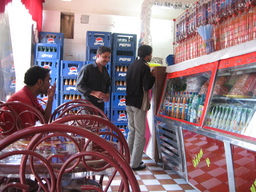 Yazd Deli

YAZD, Iran
November 6, 2007

Yazd is great. I've decided to stay here as long as possible.

I've followed a comfortable routine this past week. Rise at 9:00. Shower. Take breakfast at the hotel: olives, feta cheese, dates, yoghurt, bread, and coffee. My Persian-language instructor, Shori, arrives at 10:00. We have class for the next several hours, however long her schedule allows. Today we continued on until half-past 2:00.

I hadn't planned on studying Persian before coming to Yazd, let alone arranging course schedules and receiving formal homework assignments. Everything just fell together after I came here.

It was only while I was eating breakfast in the hotel restaurant one morning--when I saw another guest being given a Persian lesson--that the thought of having language instruction entered my mind. The first couple days she taught, I paid Shori an hourly rate for one-on-one tutoring. After our second class I asked if she'd be willing to continue on, but as an exchange--I'd give time teaching her English equal to however much time she gave teaching me Persian. She agreed, the past few days have been great.

My Persian language ability is in a strange place. So much of the vocabulary in Persian appears in other languages which I have studied formally: Arabic, Uighur, and Urdu. I understand a lot of what I hear. Nouns are generally not a problem--I can throw a word in from one of those other languages and it's usually correct. However, the grammar is wholly different. Verbs also give me a problem. I don't have even the most basic forms down pat, so conjugate painfully. This means that I could easily list off all the things I ate for breakfast (i.e. olives, feta cheese, dates, yoghurt, bread, and coffee) but struggle to form those words into a proper sentence. I have to pause, asking myself, "What's the verb for 'to eat'? Is the suffix for first-person singular past tense -am or -dam?"

The place where I'm staying, the Orient Hotel, is comfortable and has a pleasant atmosphere. It's not cheap, but good value for the price. If my visa renewal does allow another thirty days in Iran, I'll stay in Yazd for at least another week. To justify to myself that I'm splurging on accomodation, I've been skimping in other areas, mainly dining out.

I avoid prepared meals at restaurants, instead taking a simple sandwich for both lunch and dinner. They're cheap, filling, and delicious. Delis are one of the most common shops on the streets of Iran's cities. Small baguettes with choice of filling are garnished with fresh tomatoes, lettuce, and dill pickles. At the bottom end of the price range are falafel sandwiches, which go for about 25¢. Grilled chicken sandwiches go for the equivalent of one U.S. dollar. I usually opt for chicken liver, some places serve up camel meat sandwiches as well.

My accompanying choice of beverage: doogh. The bottles of doogh I've bought usually describe it as "Yoghurt Drink" on the label, though doogh tastes exactly like buttermilk to me.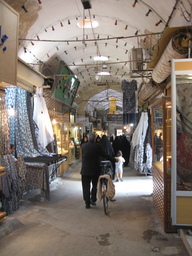 Yazd Bazaar

Exactly how long I continue this sandwich-'n'-study routine is up in the air. I still don't have my visa extension yet. I had no problem finding the police station where my visa could be extended, making the payment for the extension at the bank down the street, or filling out the paperwork. However, the specific hours I've been told I should return to the station to collect my passport, I arrive to find nobody there. I'm not concerned--the longer I have in Yazd, the better. I just want to know whether they grant the entire 30-day extension so that I can calculate how long I have to spend in other parts of Iran.

From Iran, I'm intending to cross directly into Armenia. I've been in contact with Leah, it seems likely she can line up a flat in Yerevan for me to sublet for a couple weeks in early December. After she's finished working in Armenia we're hoping to travel together for about ten days, going by land and sea to her home in Budapest. From Armenia we'd go by road to neighboring Georgia, take a ferry across the Black Sea to Bulgaria, then arrive at her home in Hungary by way of Romania.

This route would bypass Turkey, which was high on my list of destinations. I'm considering heading back down to spend time in Turkey come springtime, though that would extend my timeline and alter the direction of this trip. Spending more time on the road and visiting more countries wouldn't be a problem: I suppose it's too far in advance to contemplate. At the moment I'm content to just remain in Yazd, memorizing verbs and eating sandwiches.