Busy Composing II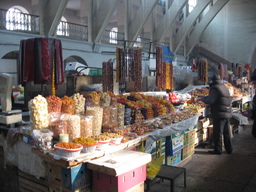 Fruit Leather, Yerevan Bazaar

YEREVAN, Armenia
December 13, 2007

Have I really been in Armenia for ten days? It doesn't feel like it could be that long: I haven't gone out and seen many of the sights. I've basically holed up here in the capital, Yerevan, for the past week-and-a-half.

Though I do feel that I should have gotten out and seen more of the monasteries, more of the culture specific to Armenia, this long pause has been time well-spent. Most of my time here has been in what I know will be the nicest hotel I'll stay in this entire trip: the Marriott on the southwestern corner of Yerevan's central plaza, Republic Square.

No, I haven't decided to suddenly increase my nightly housing budget to a couple-hundred U.S. dollars a night. Leah, an old friend from Seattle, is here on business. The suite is technically hers. In what must be one of the ultimate displays of graciousness I've been on the receiving end of, Leah has offered the room to me, she herself staying at her boyfriend's apartment down the street.

This has given me the time and a space of my own to unwind and recharge. The other day I took a long bath. That was the first time in years I've let myself just soak in the tub. I've also been taking advantage of the fast and free ethernet connection in the room. I've called a few friends around the world to say an extended "hello" and downloaded oodles of podcasts for the less wired road ahead.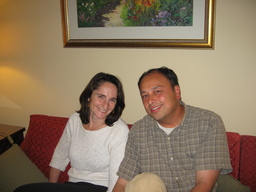 Leah and David

Leah has been busy with her work--journalism training--but has made plenty of time to hang out with me. We've gone out for meals with a few of her co-workers, often we just wind up looting the Executive Lounge at the Marriott. The lounge is certainly convenient for me: it's just ten paces down from the suite and is always stocked with prepared meals and beverages, there for the taking. Wonderful as it has been to catch up with Leah, I'm confident that I wouldn't have stayed in Yerevan as long as I have if it weren't for the free meals and accomodation.

In contrast to the plush digs at the Marriott have been the nights when Leah's work takes her to some other corner of the country. Those nights, I don't have a free, private suite at the Marriott so walk across town to the Envoy, the hostel just the other side of town. The Envoy is actually one of the cleanest, best-furnished and best-kept hostels I've stayed in. Being the low-season I have had a private room the nights I've stayed at the Envoy. However, 6,000 Armenian dram currently exchanges at $20 USD, which is by far the most I've spent anywhere on one night's accomodation yet far this trip. I suppose I should just recognize that I really am transitioning out of the inexpensive East and into countries where standards and prices are more par with those in Europe.

Most of my stays in either location have been over blocks of days, so I don't have to repack often. I can't help but smile whenever I walk between locations. The reception staff at the Marriott always wish me a "pleasant flight", addressing me by Leah's family name when I check out. "You have no idea where I'm actually going," I grin to myself. I'm still smiling through check-in at the Envoy. Those times I'm usually contemplating how many people shuttle back and forth between the most expensive and least expensive hotel in any city.

Despite having all this free time and a speedy Internet connection in both hotels, I've been neglecting this travelogue. It's for the same reason I wasn't posting many entries at this time one year ago: having other pieces to write is making me put off updates to my own website. Again, Joyce has lined things up for me to write for World Vision travel magazine in China. Now it will be as a contributing writer. I'm to deliver a piece for publication every month.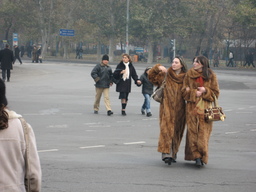 Intersection, Yerevan

I initally resisted when Joyce encouraged me to start writing regularly for World Vision earlier this summer. What the magazine wanted was regular pieces about travel within China written with the perspective of a foreigner. My main complaint was that I was about to move away from China, so not the best person to become a regularly contributing writer.

However, Joyce convinced me that I could essentially recycle any of the entries written in my blog. That seemed fine, then a few weeks ago I realized that I don't have access to any of the photographs I've taken while in China. Some are stored in Urumqi, some are stored in Seattle. The images I have posted on my weblog are all low-resolution photos that couldn't be used: they would appear grainy in print. Joyce suggested that I submit pieces that don't require accompanying photographs, but given how much more powerful a couple photographs would make any piece, I was at a loss what to do. How could I run a piece in a travel magazine without photographs?

I decided that I would have to compose something new--at least for my first piece, which will run in the January issue. Choosing the right subject was difficult. Whatever I wrote would have to work under dual constraints of running without photographs and having something relevant to say about China to a Chinese audience. Anybody who is of reading age in China has already lived there many more years than I have and probably more familiarity with the country, language, and its cultures than I have. I found it easy to procrastinate, not even deciding on a topic until mere days before deadline.

If there's ever an ideal circumstance to have writer's block, I must be in it: a cozy place of my own with an experienced journalist, all too willing to offer assistance. Leah offered direction over one afternoon spent looting the Executive Lounge together. She suggested some basic approaches to generate topic ideas and find focus in the story. I realized that it would be possible to re-visit a subject I presented on my website several years ago: the way foreigners can be hounded by overly persistent university students--language leeches--for English language practice.

I've just finished what I feel is a fair draft of that piece, making it relevant to a more general audience. I know that I don't really have to revise it for submission as it now stands--that long feature I wrote on Mongolia last year was accepted by World Vision without editorial input. However, I'd really like to get this one polished before they translate it. Leah is coming back to Yerevan in a couple hours. We're going to check back into the Marriott, she's promised to critique it, I've promised to pay attention to her feedback.