Licorice Coffee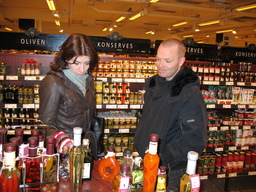 Susi and Nikolaj
Contemplate Olive Oil

ÅRHUS, Denmark
March 24, 2008

The airfare flying from London to Århus cost me £10 GBP: exactly $20 USD. I find it ironic that it cost me roughly that same amount again to get to and from each airport. The cheap bus from Victoria Station to Stansted went for another £8 GBP. The fare from AAR into the city was an additional 90 DKK, also nearly $20.

Whatever. I can't really complain about the cost of the airport bus when the airfare itself is so low. Flying is the cheapest option now, anyway. I could have continued traveling by land after my Morocco stint. I decided not to, knowing that it was going to be far cheaper to travel by the likes of EasyJet and Ryan Air than it would be to get around Europe overland.

My last days in London were a continuation of the sociable routine I fell into when I first arrived in the city. Every day I'd go out with one or both of the couples who were hosting me: Catherine and Sam, Tristan and Victoria. Some days I met up with other friends as well. Among the places I went and people I connected with:
I went for a second time to see Sam's band, Geniac, perform at a small club: the Purple Turtle. Both of the times I saw them play were up north, in the Camden area--not far from where Tristan and Victoria live in Kentish Town. Both times I went, Tristan and Victoria also accompanied, which I respect highly. Tickets, even bought in advance, were not cheap. Paying to go out to see your friend's friend's boyfriend's band--twice--is beyond supportive.

I had another reunion with another couchsurfer: Barry, from Ireland. Barry was the first guest I hosted through CouchSurfing back in Urumqi. I have fond memories of the days he stayed while passing through. There were many a hookah night over his stay. Barry worked as a research chemist for Bailey's and knew an improvisational way to whip a batch of their Irish Cream up, using ingredients commonly available, even in China. I think our recipe involved cooking up a pot of Nescafe along with cheap brandy and milk. Nisagul was especially excited as Bailey's Irish Cream is the only alcohol she'll touch.

Barry and I met down on Edgeware Road; we took lunch together at a Persian restaurant. As with the rendezvous with Dion some days before, I'm really pleased that the CouchSurfing connections continue on.


David, Miyasa, and Sabuva

The Urumqi connections around London also continue on. I met up with Miyasa and her cousin, last Saturday. Miyasa was Shamsiya's next-door neighbor in Urumqi a few years ago. Actually, Miyasa was living in London even back then: I only met her while she was making a brief visit to Urumqi, visiting her mother. I promised to call on her whenever I next passed through London; we had a wonderful night out.

We went to a Bengali place for dinner. They insisted on picking up the tab. I found that my Uighur ability hasn't eroded much; we would lapse into the language every now and then. Miyasa's cousin Sabuva found it hysterical that anybody who didn't grow up speaking the language could have any ability with it, let alone comprehend everything she was saying to her cousin. Sabuva also found it hard to believe that I myself wasn't ethnically Uighur. "I think that if anybody saw you on the street in Xinjiang, they would be certain that you were Uighur!", she insisted.

I responded that I must be truly Central Asian, as are they. With one European parent, and one Chinese parent, that puts me ethnically right between Europe and Asia--right where Xinjiang and the rest of Central Asia lie.

I finally made a trip to Speakers' Corner. That's the part of Hyde Park where the tradition every Sunday, for over one-hundred years, has been for anybody who wants to, to stand up on a soapbox and make a speech.

I think Speakers' Corner was one of those events I had vaguely heard about when I was young. I finally made the connection that, if I was in the middle of an extended stay in London, I should go.

It was rainy that day: there was not much of a turnout. Even with a mere four speakers atop their soapboxes (actually, plastic crates or stepladders) there was more than enough action to satisfy me. Three of the four speakers were total nutcases, which is what I'd been hoping for.

One man never had a single person, let alone a crowd, draw near. He mostly just stood atop his soapbox, silently. Every so often he would break into song. That would be followed by long periods of silence.

Another man laid out all manner of books atop a sheet, mostly dictionaries and other books to do with language and words. It didn't seem to bother him that they were getting soaked in the rain. Between the books he had hand-drawn paper signs which announced random statements such as, "This is a shameless plea for attention!", and "I haven't had sex since 1998."

He spoke longer and more coherently than the singing speaker, though--if the strange signage wasn't indication enough--was obviously cracked as well. Before launching into his sermon, he announced his "Rules". Few of them made much sense. Every other rule was a repeat: "No Violence".

The only speaker drawing a crowd was a young man beneath an umbrella. He reminded me more of a stand-up comic than anything else. He engaged the crowd well, peppering his topics with lots of humor and four-lettered words. I watched him for awhile, but didn't feel like participating in his discussion.

I did chat for about ten minutes with the last of the lot: a couple of religious fanatics who insisted that I should accept Jesus Christ as the son of God and my personal savior. Independent of whatever religious beliefs they held, they too were clearly deranged. Along with the standard argument of, "Everything in the Bible is true," they also tried to bring me around to their stance through some rather spurious logic:

"What do you get if you spin black and white around?"

"Uh... grey?"

"No! You get all the colors of the rainbow."

"Hmm. I think you get grey."


Victoria and Hannah
at the Islington Tap

The final way I've been social around London has been going to pub quizzes. After a round meeting up with Sam and Catherine at the Gipsy Moth in Greenwich, we came in second place. The prize for second-place was a bottle of wine, which was pretty good. First-place would have been great. There was a fair amount of money being paid out to the winners.

I was utterly useless for the mostly Anglocentric questions, though did manage to answer four questions which I doubt many other teams in the pub answered correctly. An identical page bearing the images of several banknotes was given to each team. The task was to identify the man on each note. As an American, the four images which displayed U.S. currency were no problem for me. Who's on each of these notes: $1, $5, $20, $50? Answers at the bottom of the page.

I didn't fare much better at the next pub quiz I went to. This was at the Islington Tap with Tristan, Victoria and two of their overeducated friends: Chris and Hannah. We actually didn't do too badly. My reason for going to pub quizzes is not because I'm intent on winning, anyway. I go because it's a fun atmosphere to hang around with friends. Every so often, the team I'm on does win.
Since arriving in Denmark I've mostly been holing up, just resting. I'm staying at the apartment of Nikolaj and Susi, two friends who were teaching English in Urumqi. We had only two days time together before they headed down to visit Susi's family in Germany over the long Easter holiday.
Before they left for Germany, Susi, Nikolaj, and I saw a fair bit of Århus together. We took a couple hours catching up at a cafe. I found that there is such a love of all things licorice across Denmark that it was even available as a syrup flavoring for coffee and espresso drinks. After finishing our coffee (I ordered the licorice shot) we then visited the art museum, ARoS. It happened to have an exhibition of short films directed by Shirin Neshat, all set in Iran around the time of the 1953 revolution. There wasn't much I found in common with what the films depicted and what I saw when I passed through Iran earlier on this journey. Though the films were well-done, they were surreal, artistic, and depicted a time and place long gone.
Susi Orders Licorice Coffee
It's strange to be in a place where the infrastructure and standard of living are so clearly better than where I'm from, the U.S.. I suppose that I'd lump Japan into that category as well, though I certainly wouldn't have made that statement about the other parts of Europe I've passed through recently. Places like the U.K. and Spain strike me as roughly par with the U.S..
This city feels so civilized. Danes dutifully deposit their bottles and paper into separate recycling bins, bins that are conveniently placed everywhere. Every street has not just the standard pedestrian sidewalk and road for the cars to drive along, but a third, separate lane between the two, solely for cyclists. There are even separate traffic signals to control the bicycle traffic. There seem to be as many people getting around on two wheels as four. People are courteous and polite, everything is just so... nice.
Over their absence, I've been staying on in Susi and Nikolaj's flat. I feel bad that I've mostly been staying in and holing up. I did use Nikolaj's bicycle to explore the city one afternoon, but it's too cold for me to feel like getting out. Snow has fallen most days.
I've really enjoyed just being on my own for awhile, in a cozy apartment with fast Internet access. Susi and Nikolaj return this evening, we'll spend time more time catching up. Then tomorrow, I take the train to Copenhagen. I have lots of old friends, people I've known for decades, living there.
---
Currency Quiz Answers: George Washington, Abraham Lincoln, Andrew Jackson, Ulysses S. Grant