Seeing Friends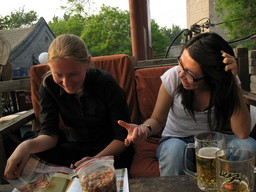 Logan and Lisa

BEIJING, China
May 06, 2008

I've just finished a full day about town, seeing so many people I know from so many places.

I'm still hanging out around Beijing with friends, though have shifted where I'm staying. Over my first days in Beijing, I was staying at Tiffany's place. Now, I'm at Lisa's. It was an easy move, a five-minute walk through hutongs divided by Jiugulou Dajie, the main road separating the lanes in which my two friends live.

Lisa and I started the day over breakfast at an American diner, the Steak and Egg. Lisa has just quit her Beijing job and is planning on making a two-month trip this summer. She's most excited about visiting a couple countries I recently passed through--Uzbekistan and Morocco. I gave what advice I could as to where to go, how long to stay, and getting the visas.

The Steak and Egg is in Beijing's embassy ghetto, Logan also happened to be in that same neighborhood this morning. Her reason for coming up to Beijing (from Kunming) was to get additional pages added to her passport. The moment she was leaving the U.S. embassy coincided with the time when Lisa and I were wrapping up our grits and eggs; the three of us met at the nearby Silk Market. Unlike Lisa, Logan doesn't have immediate plans to make the trip, but Logan would also be keen to someday visit Uzbekistan. Together we wandered about the neighborhood, trying to find the Uzbekistan embassy to figure out the prices and procedures for getting a visa issued.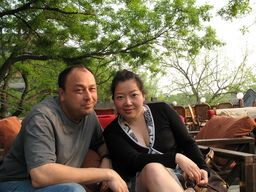 David and Joyce

As the day continued, more and more people joined in. In the late afternoon, Joyce met up with Logan, Lisa, and me at the Drum and Bell Cafe, (between Beijing's Drum and Bell Towers) where we spent a lazy couple hours sipping on cold beer. Lisa and Joyce each have new boyfriends, both of whom (along with Tiffany) joined when we went out for Korean food at Quan Jin Cheng 权金城 in the evening.

Coffee and drinks back at Lisa's hutong apartment concluded the night. It seems possible there may be yet another UUU reunion of sorts before long. I mentioned the probability that I will attend the wedding of a second-cousin in Hong Kong this autumn. Both Logan and Tiffany seemed keen--and serious--about wanting to see a Cantonese wedding take place. I'm not quite sure how to R.S.V.P..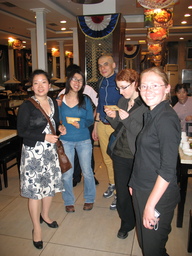 Joyce, Lisa, Erik,
Tiffany, and Logan

Unfortunately, I won't be seeing everybody I know in Beijing. Over my time here, I was to stay with Maria-João and to meet up with Lu Jun as well. Howver, a family medical emergency sent Maria-João back to Portugal a couple days ago. Lu Jun sent a cryptic text message saying that he had just flown to Shanghai for a meeting regarding "an adventure project in western China". I wish I could have talked with him in person at further length about what those plans are. We first met in rural Tibet a few years back. He and Nisagul still keep in touch; she mentioned that he was considering making the same journey from Kashgar to Lhasa again, but this time filming a documentary of the experience.

If Lu Jun is getting something together for making the trip from Kashgar to Lhasa again, I'd love to hear more. The documentary aspect doesn't intrigue me so much as just making the trip one more time. It's a journey I've been looking back fondly on recently. Drama from that trip has come up in passing conversation more than once with Tiffany during this visit to Beijing (e.g. buying headscarves for Nisagul and Tifffany, a run-in with soldiers when Nisagul and Tiffany had extreme altitude sickness, Tiffany's visa getting canceled). For my World Vision article this month I've been adapting my travelogue writings from that journey. I've also been selecting photos I took along that road to send off with the article. Going through those brings back memories of a wonderful, special trip.

Perhaps I really should try to organize another reunion of sorts: Nisagul, Tiffany, and Lu Jun were all along at various points of that journey to Tibet. Man, meeting up again and making that journey again would be great...
---
Cafes and Restaurants mentioned in this entry:
The Drum and Bell 41 Zhong Lou Wan Hutong, Beijing +86 (10) 8403-3600
Quan Jin Cheng 权金城 11 Xizhimen Inner Road Cao Chang Jia, Beijing +86 (10) 6618-5151