Seeing Friends II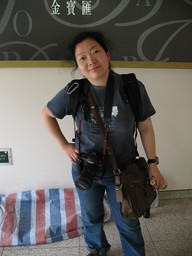 Joyce

BEIJING, China
May 07, 2008

My relationship with both Beijing and Los Angeles has evolved along similar lines. My initial impressions of both cities were that they were huge and soulless--not places I would consider living. However, my first visit to either city was decades ago--in each case before that city hosted the summer Olympics. I've changed and grown tremendously, as have both Beijing and L.A.

Neither city yet excites me, but I've grown to appreciate the character of each and enjoy what times--usually only passing through--I do spend in either. I certainly wouldn't label either city "soulless" today.

I'm really happy. Yesterday was another full day over which I saw so many good friends. I spent more time specifically with Joyce. The two of us met up at the offices of World Vision magazine, a short ride from Lisa's apartment down to Deng Shi Kou on Beijing's newest subway route, line 5. I finally got paid for the articles they've been running since last year. The amount is reasonable, though I'd have to write a lot more (I'm presently submitting only one article per month) to support myself solely on income from travel writing.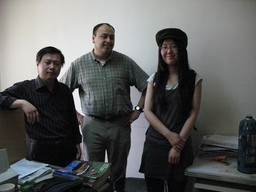 With World Vision Staff
Xi, David, and Da Mao

I met people working behind the scenes, some of whom I've been communicating with via e-mail for a long time--yet had never met in person. The only exception was Xi, the editor-in-chief, who I had met once years before. That was back when Joyce was encouraging me to write for them, though I wasn't seriously considering it at the time. I also met Da Mao, whose role is to enforce my deadlines and get my articles sent to the translation department.

When we all went out to lunch I found it strange to be speaking in Chinese the whole time. I think that's partly as I ordinarily speak the language just with friends--not over business. I had also presumed that the staff at a travel journal would be more used to speaking in English--that's the language Da Mao and I exchange e-mail in. However, it was clear that most of the folks I had lunch with that day had never studied the language, and those who did have some ability had never tried to speak.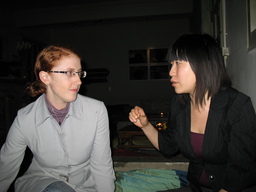 Tiffany and Zhi Shuang

After lunch with the staff at World Vision, I went for foot wash and massage with Joyce and her new boyfriend. The rates in Beijing are higher than in Urumqi, but I thought the massage here was better. To finish the evening, I met up with Zhi Shuang. She and I went for late dim sum--then capped the night off with a drink at a cozy place, the Bed Bar, located in a hutong just along the one on which Tiffany lives. It's really good to see Zhi Shuang out here. She didn't seem happy doing anything in Urumqi. She doesn't seem sold on Beijing, either. Still, it's good to see her out here pursuing work--rather than staying on in some Urumqi life and job she didn't care for.

It's been the perfect amount of time to see friends and get re-acquainted with Beijing. Next stop: Urumqi.