Bogglefest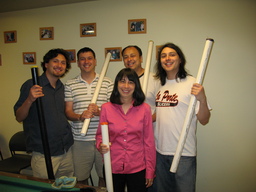 5 Siblings
5 Didjeridus

SEATTLE, USA
July 17, 2008

I'm still in Seattle. I'm still seeing lots of folks.

A couple weekends ago, my siblings and I finally all gathered once again for a Bogglefest, our traditional night of fun and games. We've been holding these get-togethers for years, since the days before any of us were of legal drinking age. The event is always centered around some theme. Occasionally, that theme will lend itself to dressing up in costume. There was no dressing up this time: the theme of this Bogglefest was a rather general "music". Ben set up keyboards for people to experiment with and a Linux version of Dance Dance Revolution in the community room of his apartment building. Jen led a workshop in playing your own didjeridu crafted from PVC pipe.

We don't actually play much Boggle™ at the Bogglefests these days. That was the game of choice when we started, though over the years we've picked up dozens of others. Among the games we often wind up playing are: Indian Poker (placing cards on your forehead with house rules we made up as children), the "Sentence/Picture" game (a round-robin of writing and illustrating), and the card game SET.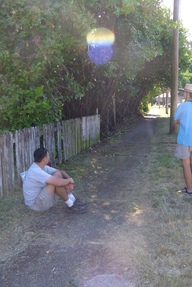 Greg and Louise After
Yard Cleanup

Our default activity for the last decade or so has been Anagrams. Anagrams is played with a set of letter tiles--usually double the number of those found in a Scrabble™ set--but uses no board. Players call words out as tiles are turned, revealing letters. If a letter is revealed which can be incorporated into another player's word, that word can expanded and taken by whoever first calls the word. The game is fast-paced, noisy, and about ten-times quicker than Scrabble.

This past weekend was also spent together with siblings and in-laws, but not in such a fun way as the Bogglefest. Upkeep of the parents' yard was long overdue. The biggest issues were cutting back blackberry brambles, holly, and laurel overgrown along the sidewalk and mowing the lawn and parking strips. Even with many hands, it was a full-day effort. Fortunately, Greg found that Home Depot rents a tool called the "Power Pruner" which is essentially a chainsaw at the end of a ten-foot pole. Ben described it best: "This thing is a lot of fun! You aim it at something big you don't like and it goes away!"

I haven't done any work yet. I've been calling into the temp agency where I registered a couple times each week to see what they have available. Yet far, they haven't had any short-term assignments that would fit into my brief time here in Seattle. I'm at the point where I'm thinking that I may not wind up calling to check in much more. Michael and Minh Chau's wedding in early August; I'll be flying on out of Seattle again in just under a month.