Cosmopolitan City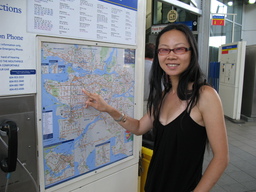 Carrie Navigates the SkyTrain

VANCOUVER, Canada
July 20, 2008

I'm away observing my annual ritual. For more years than not, my personal tradition has been to be "out-of-the country" on my birthday. This year, I'm taking the weekend up in Vancouver, a drive just a few hours north of Seattle.

I had considered taking a longer trip, going somewhere more exotic. After exploring options more distant from Seattle, (e.g. St. Pierre & Miquelon) I realized that I really had no motivation to take a long trip. I've been traveling through so many countries since I was last in this corner of the world. I might as well enjoy what time I do have here.

I'm staying at Carrie's place for three nights. Carrie is a Taiwanese friend, the one who came and stayed with me out in Urumqi two years ago. We've each been through tremendous changes in our lives in the time since we last saw each other out in Xinjiang: I moved along from Urumqi, made the overland trip west to Europe, and am yet transient. After returning from Xinjiang, Carrie quit her job in Beijing, packed her things up, then moved to Canada and got married to Ed--her partner of many years.

I'm loving being in Vancouver. I was apprehensive before driving up. I've been declaring for years that Vancouver will be the next place I move onto after Xinjiang. However, I hadn't visited in the city in over six years. What if I found it wasn't all I worked it out to be in my mind?

Vancouver still compels me. Everything I like about Seattle I find also exists--three-fold--in Vancouver. Many people who move to Seattle cite the natural beauty of the mountains, forests, and bodies of water as what attracted them to that city. Vancouver has those same elements, but each on grander scale and closer to the city center. For decades, Vancouver has run a superior mass-transit system, including an el': the Skytrain. Seattle is still laying the tracks for its first attempt at a light-rail venture.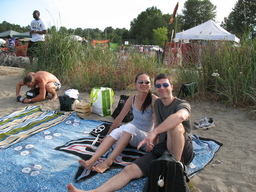 Carrie and Ed Barbecue
at Spanish Bank

I will concede that Seattle still trumps Vancouver for plethora of cheap, delicious Vietnamese and Ethiopian restaurants. But Vancouver is more cosmopolitan in every other regard. What must the percentage be of Cantonese across the city population? How about the Punjabi community? Driving around town over the past couple days, I've randomly tuned to stations broadcasting in Mandarin, French, and Punjabi. I really like this town.

I've been spending much of my time hanging around the city with Carrie, Ed, and their friends. If time together with them has been a fair gauge, I'm certain I'll be comfortable living here. Yesterday, we started with delicious dim sum--just a 15-minute stroll from their apartment off Broadway and Commercial Drive. The evening was spent barbecuing at the beach of Spanish Bank. Live music leaked out from the Folk Music Festival in Jericho Beach Park next door. Thousands of other people were out for the festival, to watch the sunset, or to wander the beach. Things are different here. Seattle may consider itself liberal, but I don't think the public displays of bhangs, spliffs, and topless bathing I saw last night would be accepted as well on the other side of the border. Or, maybe my perception of what goes in the U.S. is skewed, having been away from that country for so long.

Peace Arch
U.S./Canada Border

I'm not sure just what it is I'll do once I've moved up here. The only thought I have at present would be to open up a hookah lounge. That idea is, in all sense of the phrase, something of a pipe dream. I'd give the odds of that actually ending up what I do at roughly 10%. We shall see just where I wind up--or whether I can even make the move. My papers to establish permanent residence are yet in bureaucratic limbo, presently awaiting some background check from Ottawa.

I've been taking today largely on my own. Strolling down Granville to W. 4th Ave; considering which neighborhood would lend itself to opening up a hookah lounge. I spent a couple hours in a branch of the Chapters bookstore chain. I was mostly flipping through a book I happened on, a book written for people in my situation. It detailed what steps a new immigrant should take after arrival in the country. There wasn't much I found surprising, nor were there many steps which I couldn't have figured out on my own. Still, it was nice to find a reference with all the information in one place.

I hope my papers come through sooner than later. I recently realized how long I've been on the move. It's been nearly a year since I had a bed to call my own.