Best Man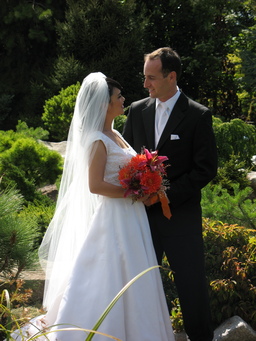 Minh Chau
& Michael

SEATTLE, USA
August 02, 2008

Whew. Just a few hours ago, two of my closest friends were married. Then, after the dinner reception, I went and crashed yet another wedding. (It wasn't totally random--I did know a couple of people in attendance.) I've spent the entire day with so many dear friends, many of whom I hadn't seen in years. It's been a full, emotional, and exhausting day. It's been very, very good.

The wedding which I was invited to was Michael and Minh Chau's. I've known each of them for over twenty years. They weren't close until recently. Now they're married.

I've had separate enduring friendships with each. I've spent time together in odd corners of the globe with each. There were periods--measured in years--when it was either Minh Chau or Michael who would be the default person in my life, that person with whom I would meet up several times a week. To me, each has played the role of that person who never needs to be marked on the calendar--it was just presumed that we would see each other. For years, it was in the given that there would be plans after school, plans after work, plans making dinner together. Both were there to support me over the most difficult periods of my life.

I was the best man. I wasn't sure what all the traditional duties and responsibilities were as best man. I let them know that I would be available for any basic errands which they didn't have time for--and anything else they might want help with. They did ask me to craft and plant signs giving directions to the ceremony, the reception, the restrooms. Though they didn't ask me directly, I had attended enough American weddings to know that the best man was also supposed to give a short speech, making the first toast to the new bride and groom. I was apprehensive about speaking publicly. Fortunately, I had so many fond memories of time shared with either of them that speechwriting was more an issue of selecting which experiences to share than of coming up with something to say.

With the advance help of Phyllis--with whom Michael, Minh Chau, and I each have long histories--I came up with a general outline. It helped that Phyllis was not only a good old friend of all three of us, not only the officiant of the ceremony, but Phyllis also brought years of experience speaking--mostly on-air as a reporter for public radio. Following her detailed suggestions I came up with ideas and rehearsed. I didn't write anything out or attempt to memorize a script verbatim. Here is an approximation of how it came out: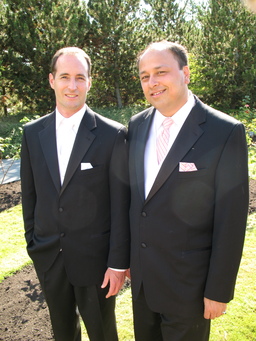 Michael & David
"Hello. Thank you. It's so good to see so many people here, so many faces I've known for years--decades, even. For those who don't know me, I'm David Wong. I've known both Michael and Minh Chau for over 20 years.

"I have so many memories--both of Michael and of Minh Chau. I'd like to share a couple:

"I met Michael in high school, when we were both around 15 years old. We began spending time together regularly, most often at his family's home. We did the sorts of things 15-year old boys do: playing video games, renting videotapes, listening to records.

"I remember one time in particular, a couple months after our friendship began forming. I noticed something new on the walls of Michael's room. There were photographs clipped from the pages of some magazine, photos of children: children playing together, children smiling, children laughing.

"This was the exact age when I was trying to get away from being perceived as a child. I turned to Michael and asked him: 'What's up with the kids?'

"To this day, I remember his response, quick and immediate: 'Kids are cool!' I knew at that moment that he was going to be an amazing father. Which, today, he is.

"The memory I'd like to share of Minh Chau comes from an experience a few years later. About seven or eight years ago, I'd been away from Seattle on a trip along with many people close to me, among them Michael and Minh Chau. Not long after I returned, I received a 'phone call from Minh Chau.

"She asked me whether she could, 'Ask me something?' It was, 'Something to do with that recent weekend in Las Vegas and my friend Michael.'

"'So... what happened, then?' I asked.

"'No, no... it's nothing like that,' said Minh Chau. 'It's just that... I can't get him out of my mind!'

"I laughed and told her it was a funny coincidence that she'd been thinking so much about Michael recently. I had too. In fact, I had just finished putting up a website: www.michaeltruog.com. I hadn't yet told Michael that it existed; I was hoping that he'd stumble onto it sometime at work one day or other. I told Minh Chau to take a look.

"I don't know whether Minh Chau believed that there really was a website at that address, but she must have been curious enough to check it out. A week later, I got another call.

Minh Chau: 'Can I ask you something?'

David: 'Yeah, is it about Michael?'

Minh Chau: 'Yes! Is there any way he can tell how often I'm looking at that website? I've been loading it dozens of times a day and I don't want him to know!'

"I assured Minh Chau that there would be no way for Michael to know how often his website had been accessed or that she was its biggest fan. It really struck me though, how smitten she must have been. I had made the site as a joke. There was nothing more than a couple of his class photos from high school on that site, with the text 'Welcome to the Michael Truog Fan Club' above.

So, I think I've had a sense of where things are going for a very long time. I look at the two of them today and see what a beautiful couple they are, how happy they are together. I'd like to ask everybody to join me in drinking to them: To Michael and Minh Chau!"
---
The entire wedding was held outdoors. The ceremony was held in an arboretum with manicured gardens, the sun was out, dinner was catered. The wedding ended with sunset.
Is it cliche for the best man to run off with one of the bridesmaids after the wedding finishes? (And as I quoted Minh Chau in my toast, "No, no... it's nothing like that.") I had gotten to know Shannon several years prior--through Minh Chau--over a period when we were all living in Seattle. Shannon and I had never been extremely close. We did have fond memories of a summer when the two of us took a road trip down to Mexico together--though we hadn't kept close contact in recent years.
Before Michael and Minh Chau's ceremony got underway, Shannon mentioned that another mutual friend, Naomi, was in town. Naomi was back in Seattle to attend some other wedding. As Michael and Minh Chau's wedding was ending early in the evening, Shannon suggested that we crash the wedding Naomi was attending.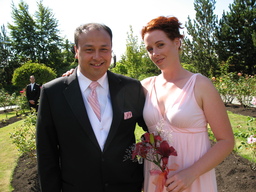 David & Shannon
I remembered Naomi well: cute blonde. She had been roommates with Minh Chau over one of the years when Minh Chau and I had been closest. I hadn't seen Naomi in years, but figured that as I knew at least one person with an invitation it wouldn't be that difficult to get away with crashing the wedding of some couple I didn't know. I already had the formal wear on.
The reception for Naomi's friends' wedding was held in the recently-restored ballroom of the Arctic Hotel, one of the older buildings in downtown Seattle. I had never been inside the Arctic Building before, but knew which one it was when Shannon mentioned it by name: it's that one with the walrus gargoyles around its perimeter. Shannon and I entered the Dome Room just as best wishes were being extended to the couple--who turned out to be two men--and they were prodded to take the first dance of the evening.
I danced as well later that night, which should surprise anybody who knows me well. Truly, I was more anxious about getting out and moving slowly around the floor than I had been about delivering the first toast at the wedding earlier in the evening. Naomi was patient with my lack of rhythm. Between the music, catching up with Naomi and Shannon, and a couple glasses of red wine, the night was over all too soon. On our way out, somebody insisted that no guest should leave without at least one box of cookies. There had evidently been some sort of cookie theme to the wedding. For some reason I felt far guiltier about taking home-baked cookies away from a stranger's wedding than I felt about showing up and drinking their wine. Guilt-ridden or not, I did leave with two boxes.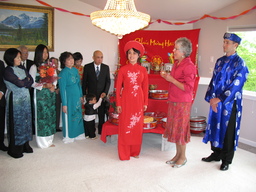 With Family at
Morning Ceremony
The three of us did manage to extend the evening, chatting with others in a suite of the hotel where somebody was staying. However, both Naomi and Shannon had to fly out the next morning, off to the different parts of the country where they have settled. The three of us are talking about all meeting up again this spring. Perhaps that will be in New York City, perhaps in Washington D.C..
Shannon just dropped me off, driving me back to the home of my sister--that's where I've been staying this week.
I just realized that it was three ceremonies I attended today. Michael and Minh Chau actually held two full wedding ceremonies: a traditional Vietnamese ceremony in the morning, followed by a traditional western ceremony in the evening.
I am very tired. I am very happy.