Real Fun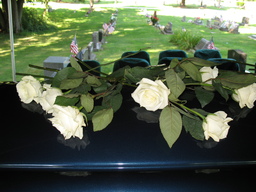 La Porte, USA
August 14, 2008

The others from Seattle who came ahead of me made it here just in time. It's fortunate that they went directly to the nursing home where Grampa was staying. Grampa died within an hour of their arrival.

Before his death, everybody in the family had already bought tickets to come visit with or to care for Grampa over the coming months. Last weekend, when it became clear that Grampa's condition was deteriorating rapidly, Mom, Ben, Jen, and nephew Nicholas changed their itineraries to fly to the Midwest immediately. The ticket I had bought months before was fixed for yesterday, August 13. I didn't change that itinerary, taking the chance that I would still make it to Indiana in time to see Grampa alive--not just for a funeral. That turned out to be a gamble I lost.

The rest of us out in Seattle followed on when we received the news that Grampa had died. Greg and his daughter Myhanh flew out on the 12th. Dad accompanied me on the flight to Chicago I came in on yesterday. Everybody but Alan is in Indiana now. Alan has been out of contact, leading a retreat somewhere in the woods of Oregon. We've all been frustrated by our inability to contact him.

We held the funeral service this afternoon. With the exception of young Myhanh, each of us spoke. Nicholas--representing the great-grandchildren--began. There was a moment of silence to recognize Alan's absence and the words he might have to say. In most of our eulogies people recognized Grampa's literary side by reciting poems he loved. His joie de vivre also came up often: more than one person mentioned his penchant for cigarettes and scotch.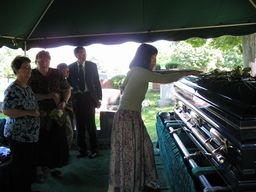 The funeral adhered to a mixture of light-hearted and serious wishes Grampa had previously expressed. Over Thanksgiving several years prior, Mom and Aunt Kathy asked Grampa what his funeral wishes were. That resulted in Grampa making silly speculation on what personal role each person in the family could best play. Aunt Kathy took notes. Though much of what he said was tongue-in-cheek, those notes formed the only sense we had of his wishes. I was tasked with reading quatrains from the Rubiyat of Omar Khayyam--many of which Grampa apparently knew by heart. I did my best to read out selections from both the original Persian and the classic Fitzgerald translation of the 19th century.

The full list of Grampa's funeral wishes--as jotted down by Aunt Kathy years ago--follows:
Funeral = Real Fun
Lively Scottish Pipers.

Gunn clan (not Amazing Grace)
Jen does Highland Fling

Taps-Kathy practice? or boys
Internet site (Ben)
Dave-Persian, Omar Khayyam
Didjeridu-Jen
American Legion-normal faction
Alan-poetry
Marina-fly-over P51
Chinese-hell money, limousine, condo, sailing yacht, scotch, everybody wear white
Casket -bottle of scotch, cigs, Valhalla for Dummies, Intro to Virgil
Kathy/Corky - duet

Oh My Papa
Blood on the Saddle
Polka-Dot
Ragtime Cowboy Joe

Greg-torch of eternal life funeral procession
Mike-ukelele (Burl Ives)
He's Here (arrow pointing down)
On the whole I'd rather be in Philadelphia
Smiley Maxedon tape
Marcus Aurelius
Mike's Dad
Many of the references I'm not sure of myself. Grampa served several years in North Africa and Italy over World War II. There was a 21-gun salute and a flag draped over his coffin. The funeral was traditional and respectful without being overly somber.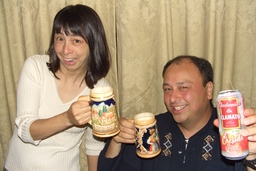 Budweiser and Clamato
Together in One Can

The heading at the top of Grampa's funeral list "Funeral = Real Fun", came from an off-hand comment I made when I was a teenager. It seems that while driving past a funeral home once many years ago, I noted to Mom that the letters in "funeral" could be scrambled to form "real fun". Mom shared that with Grampa in a letter which she just found amongst his possessions. She passed along my anagram observation, writing that "when she goes, she doesn't want to have a funeral, but wants to have a 'real fun'."

We're at Grampa's home now, having the best real fun we can. Grampa had a collection of beer steins. We're toasting him with local La Porte microbrew and some noxious concoction Greg and Jen found at a local supermarket. In the accompanying photo, I'm holding a 16-ounce can containing a mixture of Budweiser and Clamato. I don't believe Grampa ever drank either of these. However, were he here, he surely would have appreciated the humor--and joined us in the real fun.