Island Barbecue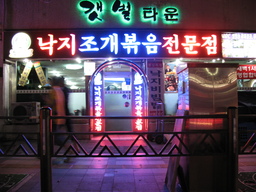 SEOUL, South Korea
September 1, 2008

I'm at the end of my visit to Korea. When traveling I usually want to spend time getting to know a country unfamiliar to me. However, I was here for only one week and didn't venture too far from Seoul. I'm ready to move on. This visit was more about calling on friends, just passing through, than a deeper exploration of the country.

There were two highlights to my stay here. The first was meeting an accomplished local calligrapher, Jung Do Jun. The second was an excursion out of Seoul: a day of barbecue and play outdoors on a nearby island.

The meeting with Jung Do Jun was arranged in a typically Asian way: through connections and invitations to dinner. Among Jochen's friends are two elderly Korean women, the Kim sisters. Jochen invited both of them out to a lavish dinner along with his family and me. The food was delicious--though there was far too much. Nobody really drank, but the meal would have been incomplete without ordering at least one bottle of sowju, a strong traditional Korean drink.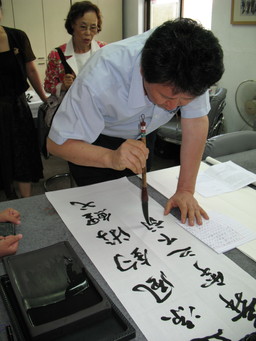 The next day, the sister who spoke better English--Kim Hae Won--met me, Gulaim, and Begam-ai in the central Insadong district. I'm not sure what connection--if any--she had to the artist. She accompanied us down a side-alley then into a school opened by Calligrapher Jung. We were invited up for tea, then met the artist himself. Kim Hae Won translated for us.
I scanned through a binder of photographs taken at various exhibitions while making light conversation. Though he'd never visited western China himself, Jung was familiar with Xinjiang and Urumqi. Despite our language barrier, he was clearly friendly and generous. Before a final calligraphy demonstration, I was presented two beautiful books. Each reproduced the catalog of works on display at previous exhibitions. I wasn't sure how to show my appreciation. He had first swished beautiful brushstrokes onto the front page of each book expressing it as a gift to me.
Despite Jochen's heavy work schedule, he's managed to make time to spend together. I've been introduced to yet another German game. Over the past days the family has been playing round upon round of a card game called Der Grosse Dalmuti. As with Kniffel earlier in the week, Der Grosse Dalmuti is a fun game with simple rules. Learning the second German game in less than a week, I again pondered why such a greater variety of games come from Germany than from elsewhere in the world.
As an executive in Seoul, Jochen has few days free from work. Even yesterday, a Sunday, he had to turn down at least one offer of a business lunch. We instead drove out to the coast, took a ferry to the island of Muuido, and spent the day relaxing.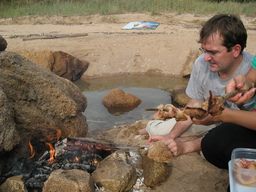 The family had been to Muuido several times before so knew just where to go. They knew a route cutting through the island to a beach on the other side, away from the main stretch where most visitors to Muuido go. To get there, we had to drive a fair ways down a rough, dirt road. The beach wasn't a total secret--there were a handful of others fishing and picnicking in the area when we arrived. Even with others about, the comparative seclusion was welcome. Across the bay we could see thick crowds along the main beach.
It was one of those rare lazy days--perfect for my last full day in the country. We came with long metal skewers and raw meat to barbecue, shashlik style. We splashed about in the water. There were several rounds of Der Grosse Dalmuti played on blankets on the sand.
I leave Korea in a few hours but it's possible I'll be seeing Jochen's family again before long. Though Jochen and Gulaim were married some months ago the official party hasn't yet happened. Plans are formulating for a huge wedding bash in Kyrgyzstan. That will likely be held in July--which would be perfect timing for my birthday trip. My immigration status is in limbo for the next year: I'm open to most any trip--especially one attending a big, traditional wedding of a close old friend.