Chinese Hamburger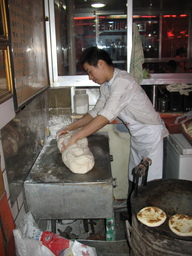 DUNHUANG, China
September 24, 2008

Meenday and I have set off on the road again. Monday, we took the overnight train directly from Urumqi to Dunhuang--that railway line didn't exist the last time I was here.

It's Meenday's first visit to the area. There are elements similar to my first visit three years ago: Another tour of the Mogao Caves outside the city. Another bicycle rental to explore the area around the city. However, this time I was wise enough to not ride the bicycle all the way from Dunhuang to the Mogao Caves, given how difficult the return journey had been on my initial trip.

We took dinner in the night market. After circling around and weighing options we wound up inside one of many small stalls, this one serving basic local Muslim fare. To the side of our seats a boy was kneading dough in preparation for baking. This dough was to become the buns for rou jia mou, a sandwich common in western parts of China.

Rou jia mou was one of my default cheap meals over my time at Xinjiang University. There was a restaurant just up from the main gate that made them for about $0.25 U.S. each. That place had two choices of filling--lamb or chicken--stewed with bell peppers and spices.

That location outside of X.U. baked their buns in a way nearly identical to English muffins, but thinner and a touch less spongy. In Dunhuang the texture was more like a buttermilk biscuit: dry and flaky.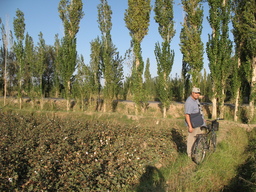 Cotton Fields near Dunhuang

The rou jia mou at the Dunhuang night market wasn't as tasty: it was the wrapper in which it was served that I found to be of greater interest. There was text in both English as well as in Chinese presenting the rou jia mou as evidence of China's invention of the hamburger. This claim was a new one to me:

The Chinese hamburger is the original, hamburger
going back to the days of MarcoPolo and the SilkRoad. My
family has served then since 1925. It's really a unique taste
and flavour. Try the original today.

G-NO. 2 Sha Zhou Food Square Dunhuang Central

KEEP DUN HUANG GREEN AND CLEAN!

Just two weeks ago I wrote about Chinese reports proclaiming the Chinese to be the inventors of skiing. Hamburgers too?