Faux Isthmus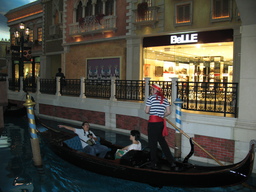 MACAO, China
October 14, 2008
Where am I?
All around me are canals with gondolas floating by. Could I be in Venice? However, there's no Italian about: signs are labeled in both English and in simplified Chinese characters. Could I be somewhere in mainland China? But then--on top of the canals labeled in Chinese--I just took an escalator up from row-upon-row of baccarat table, pink chandeliers glittering above. Las Vegas?
The answer to where I am is "none of the above". I'm in Macao. I'm spending the final hours of my visit here checking out one of the glitzy casinos that have gone up in recent years: the Venetian.
I don't know whether the Venetian was here on my last trip to Macao. I'm not even sure whether the land upon which it was built was here on my last trip to Macao. This casino--as well as several other flashy developments nearby--has been built atop a faux isthmus connecting two of Macao's islands: Taipa and Colonnade.
Wholly artificial though it may be, I am impressed by the atmosphere in the Venetian. Pleasant violin music--including a lot of Vivaldi--flows throughout the casino. Though flat and grainy, an accurate reproduction of the ceiling of the Vatican Museum floats above. Marbled columns capped with golden glitter hold nothing up. Cementing the charade are the living statues which mimic the street scene of so many European cities today. After minutes of posing motionless, somebody clad in a dull, solid-colored outfit will suddenly move to startle unaware passers-by.
My motivation for making a visit to Macao was not to check the Venetian out. The real reason I'm here? Macao has cheap flights to Bangkok. Bangkok will make for an easy jumping-off point to my next destination: Cambodia. After taking the ferry in from Hong Kong a couple days ago I could have headed straightaway to the Macao airport. However, I decided that--as long as I'm here--why not hang about for a couple days to see the new Macao? I'd heard that the territory has been through immense development over recent years. If this casino is any indication, that's an understatement. All of Macao has exploded into neon.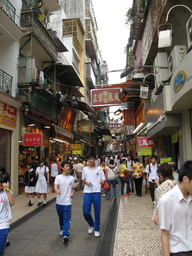 Making this detour a couple years ago wouldn't have been a practical way to pick up a cheap flight to Bangkok. Back then, staying in Macao would have meant at least paying for some sort of accommodation. Instead, I've spent my last two nights as a guest of Lena and James: a European couple who have moved here recently. We weren't acquainted before I arrived here--yet I've had a free place to crash in their apartment. Couchsurfing has changed everything.
I still can't get over what a great thing Couchsurfing is. At one level, it is about free accommodation. However, that's never truly been the case any of the times I've played the guest--or even the host. Whenever I stay with somebody through Couchsurfing I feel obligated. I invite my host out for a meal or cook dinner--at least once. Whenever I stay with somebody through Couchsurfing I'll be sure to bring at least a token something back to share over an evening spent together at home. That might be a bottle of wine or perhaps some treat from the area I've just come from.
In fact, staying with people through CS doesn't always work out to cost me less than it would were I to stay in some cheap guesthouse. Many times I've spent even more. I feel that there's no decision: where would I rather spend my money? On some anonymous place to crash for a night? Or towards time shared together with a real host; time shared with some local who is interested in getting to know people?
Lena and James have been no exception to the people who have hosted me when CouchSurfing other places. Though they themselves are the ones who have opened their home to travelers passing through for a few nights, I almost feel that I'm the one imposing. They've been too gracious. Communication with them over the days before my arrival has been immediate--they always followed up right away by either SMS or by e-mail to any questions I sent. They sent me the details of just which bus route to catch from the ferry pier to their neighborhood. They even prepared breakfast of tropical fruit and yoghurt over both days of my stay.
Picking up dinner and bringing beer back is the least I can do.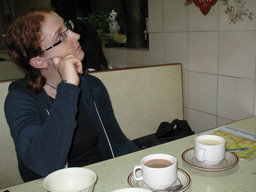 Tiffany, Ovaltine, & Horlicks

In addition to hosting me for two nights, Lena and James have also taken in fellow ex-Xinjiang ex-pat Tiffany for a night. Tiffany's present visa allows her to stay in China only for blocks of two-months at a time. To stay in-status she crossed into Hong Kong a few days ago. We met up a few times there. We're also hanging out in Macao. At first, I felt like asking Lena and James whether Tiffany could crash as well wasn't asking too much. However, I think it's worked out well. Lena's schedule was consumed by classes today. Tiffany and I took that time to wander around Macao together.

First, we climbed about the ruined fortress above the cathedral facade. Next, we found somewhere for lunch. I ordered Portuguese-style fried-rice. On that same menu were two hot malt drinks: Ovaltine and Horlick's. We sampled a cup of each. Then, we dipped into Casino Lisboa--which didn't feel as scrappy as it did when I last passed through, back when it was still eking by on historical status as the main action in town.

Neither of us gambled, though we did play cards. Tiffany travels with a tattered deck of SET. We'd played the game often in the the past: back when we were both still living in Urumqi, back when we were traveling together to Tibet. It was mano-a-mano once again, this time the two of us playing while indulging in coffee and creme brulee at a Portuguese cafe--Caravela. We lingered over hand-upon-hand of the game--the majority of which I lost.

Tiffany took the boat back to Hong Kong this morning. I came out here. Now that I've seen the casino, I'm trying to figure if there's a free shuttle from the Venetian to the airport. There must be. I've seen Venetian-branded coaches bound for every other destination around Macao: the China border, the pier. I just haven't seen any bound for the airport. If there is no shuttle, no problem. The airport isn't far. From here I could literally walk the distance and not break a sweat. If it comes down to it, I'll just hail a cab. I've spent all of my remaining local currency (Macanese Patacas) though think a taxi would likely accept Hong Kong dollars--I do have a few of those leftover.

However, I'm fairly certain that the Venetian will provide a free shuttle to the airport. They do have a certain image to maintain.

In a few hours I'll be off on a flight to Bangkok.